Chill Out
with
Hot Savings
Right now, and only for a limited time, get free standard color upgrade on windows and capitalize on our current discounts for patio doors! Top it off with generous volume discounts of up to 30%, and your home upgrades could make you feel like the summer party lasts year-round.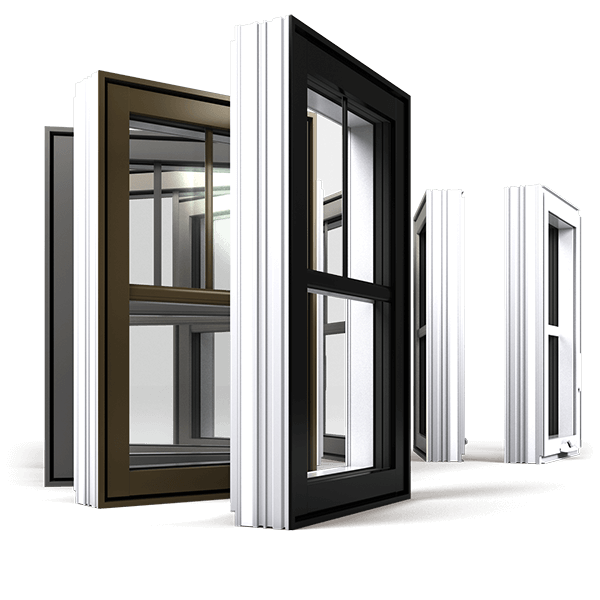 Free Color Upgrade on Windows
Our high-performance windows look sleek in white, but any home can use that extra touch of style. Choose from a comprehensive palatte of standard factory colors that will elevate the look of your home - at no extra cost. Our factory finishes are durable and will outlast any paint!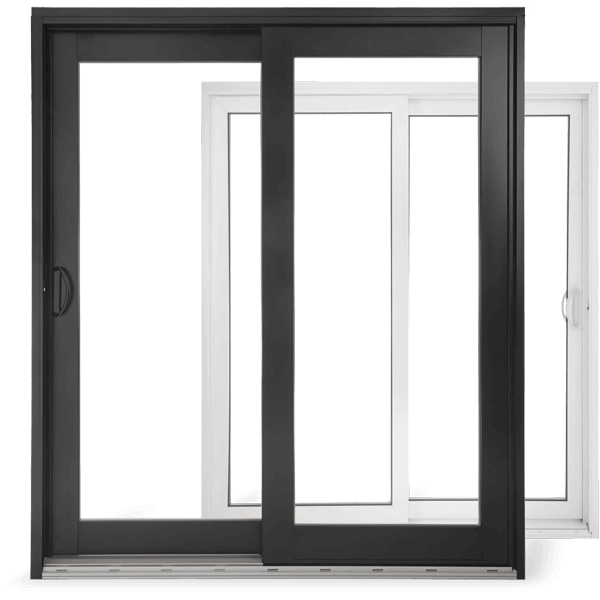 Discounts on Select Patio Doors
Get the most out of those beautiful summer days by letting the optimal sunlight into your home with energy-saving sliding patio doors. Check with your sales representative about our current discounts!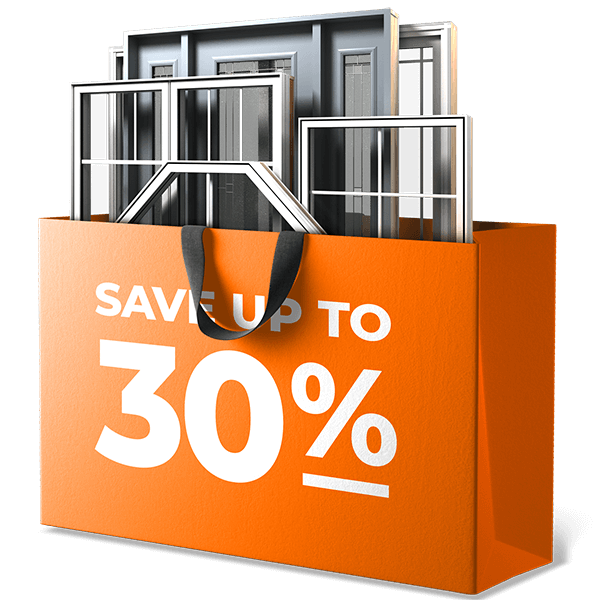 Up to 30% in Savings: Buy More – Save More
It costs us less to install more products at once, and we're happy to pass these savings on to you. So when you buy more, you save more. Right now, you can save as much as 30% on your window and door replacement project. Savings so big you should treat yourself to a well-deserved vacation.
Windows and Doors Done Right
We are a full-service window and door replacement company. Our products are not pulled from a warehouse, but made to order for every single customer. This way, you get an exact fit, amazing looks, and a durability you can depend on. Everything we install is covered by our commitment to ongoing service and a simple but comprehensive warranty. Here is a list of products we install:


Single hung windows
A single-hung window, also known as a single-sash window, is a type of window with a lower operable sash and a fixed upper sash. The lower sash slides vertically, allowing to open the lower half of the window for ventilation. The lower sash often tilts in for easier cleaning from the interior.
A window style believed to originate in England and Holland, hung windows were brought to the American colonies and became the most popular windows in North America. Hung windows are staple design features of the Colonial, Cape Cod, and even Victorian home styles. By not taking any interior or exterior space when open, vertical sliding windows are valued for their space-saving design.
If your home in Massachusetts still has its original windows, they are most likely the single hung type. If you're looking to replace your old and leaky windows to modern, energy-saving, and beautiful single or double-hung windows, we'll be happy to provide you with a free estimate.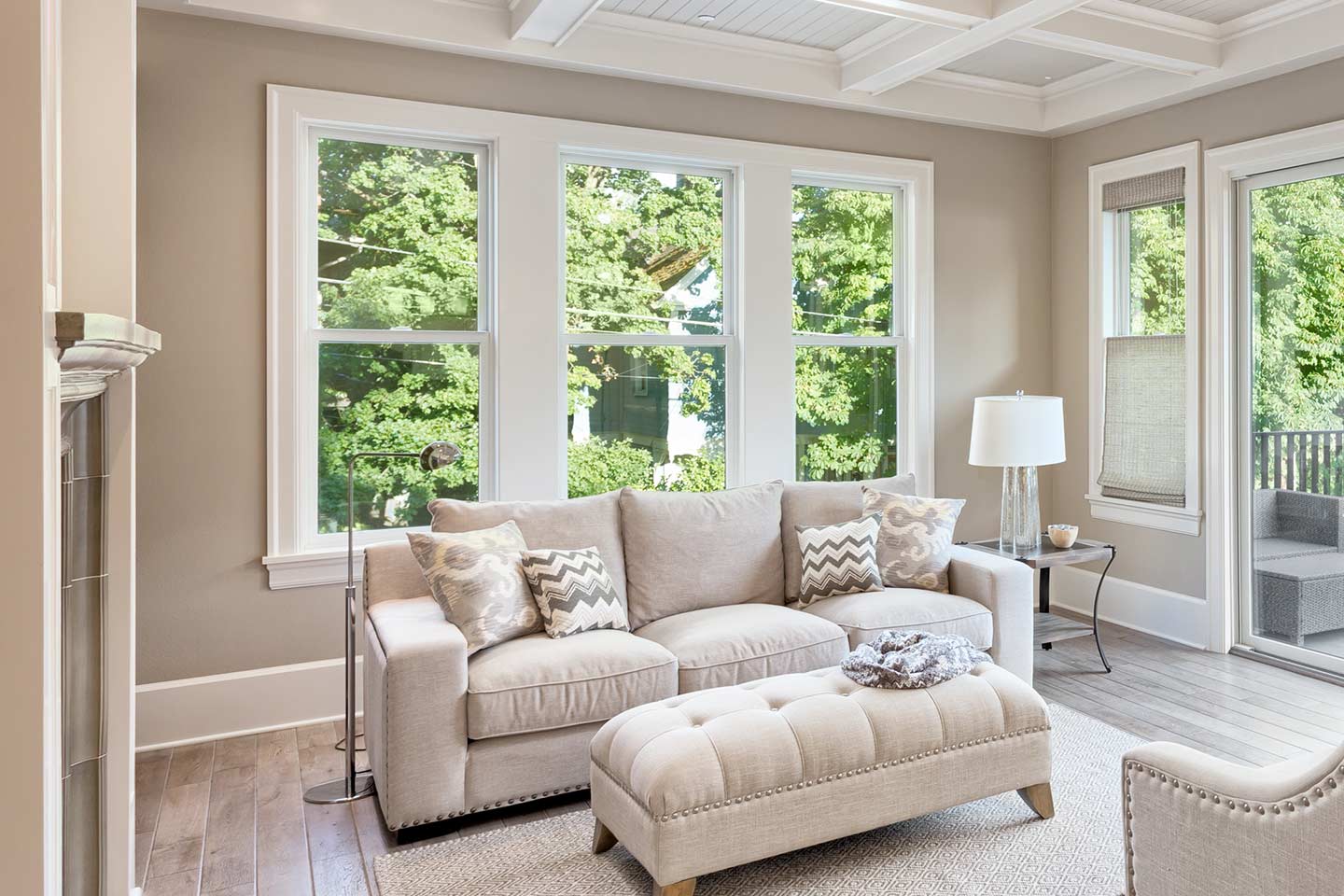 Double hung windows
A double-hung window, also known as a double-sash window, is a type of window two vertically sliding sashes. The two operating sashes allow ventilating through the lower, upper, or both parts of the window. The sashes often tilt in for easy cleaning from the interior.
Hung windows originate in Western Europe. Brought to the American colonies by the English and Dutch settlers, they became a staple design feature of the Colonial, Cape Cod, or Victorian home styles. Vertical sliding windows are the most popular style in North America due to their space-saving design that does not take up interior or exterior space when open.
If your Boston area home needs its hung windows replaced, look no further – we'll make it easy! We install modern, energy-saving, and beautiful double-hung windows. Get a free estimate and we'll take it from there.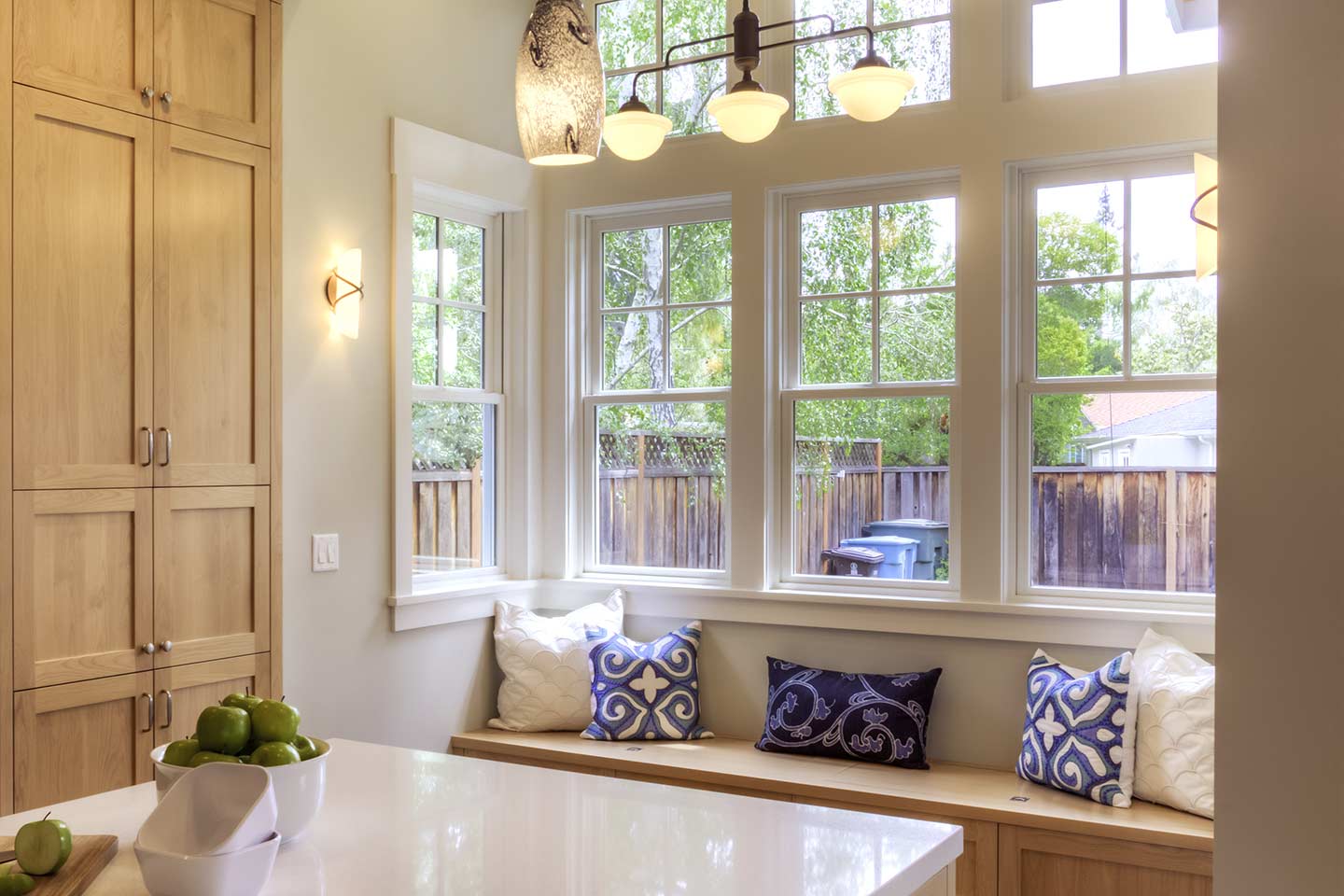 Single slider windows
Often referred to as a slider or gliding windows, sliding windows have two sashes in a single frame, with one sliding either left or right, while the other one is stationary.
Due to the similarity with hung windows, many believe that sliding windows share the same Dutch roots. However, seafaring Dutch could have been influenced in Asia, e.g. by the Japanese Shoji doors used since the 12th century. In the United States, sliding windows could have gained larger adoption with the suburban boom of the '50s when bungalo and ranch houses brought larger horizontal window openings to the single family home.
Arguably the easiest to operate and space-saving, slider windows are still a favorite among homeowners. We install modern, energy-saving, and durable single gliding windows, so Get a free quote - we'll be happy to assist.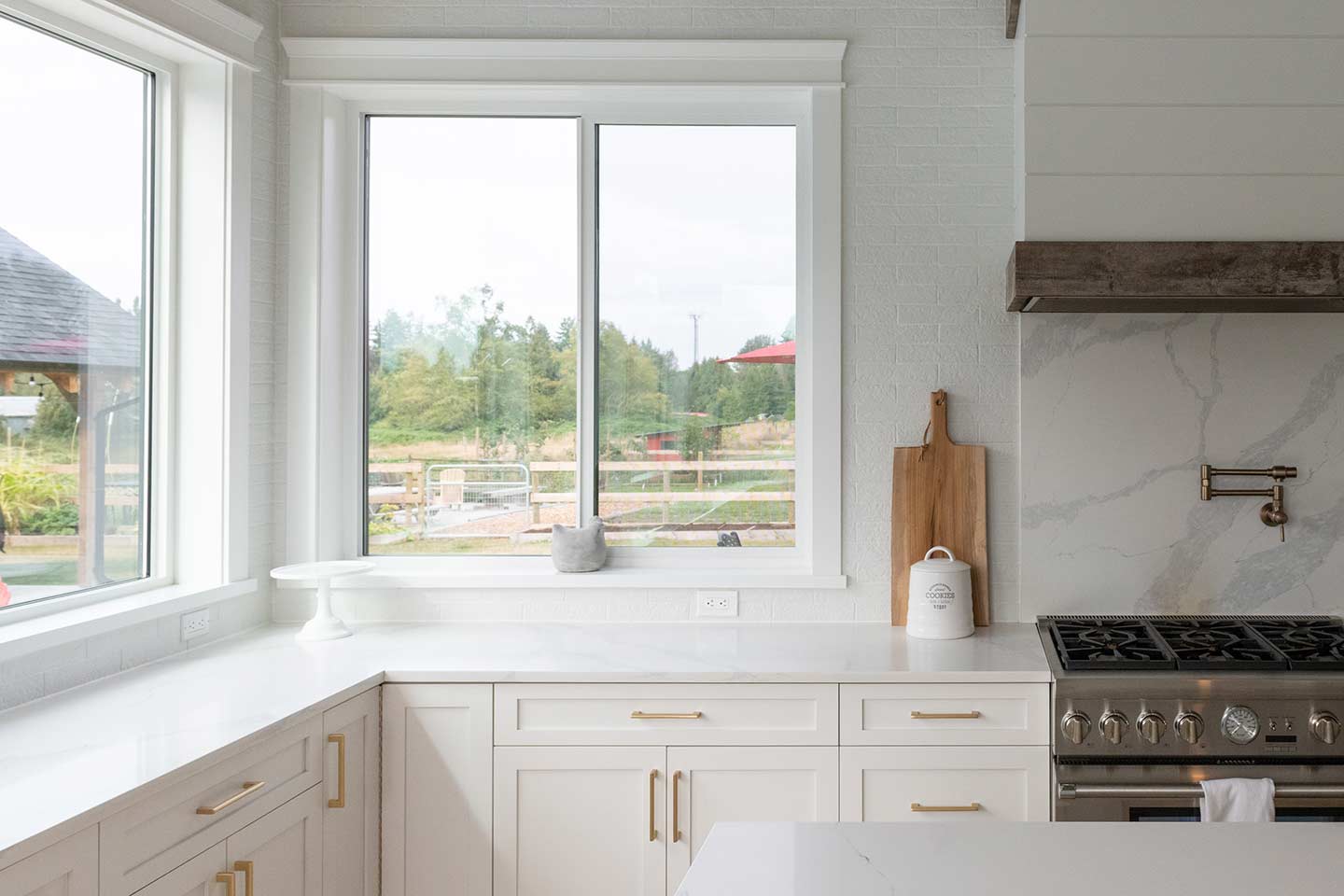 Double slider windows
Also known as gliding windows, double sliding windows have two or more sashes that slide left or right in a single frame. This design is appreciated for more ventilation options than single sliders. Both sashes are usually removable for easy cleaning from the inside.
Very similar to double hung windows, double sliding windows may share the same Dutch roots, possibly influenced by earlier East Asian equivalents (e.g. Japanese Shoji). In the United States, sliding windows gained a wider adoption during the emergence of suburban neighborhoods featuring bungalow and ranch style homes with wider window openings.
Incredibly convenient, easy to operate, and space saving, double slider windows are popular among homeowners. Should you look to replace your old and leaky windows with modern, energy-saving, and durable double gliding windows, we'll be happy to offer you a free quote.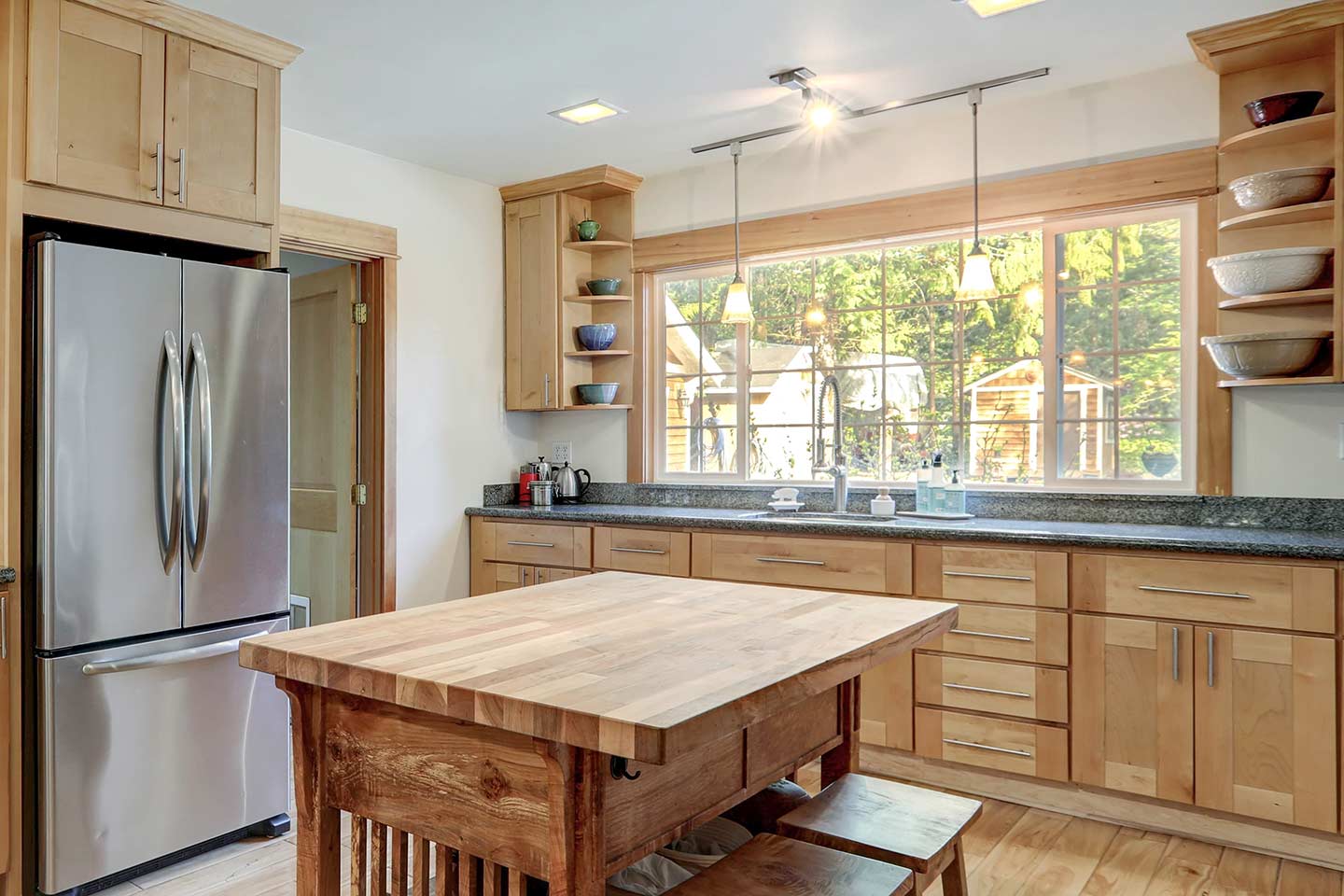 Casement windows
A casement has its window sash attached to the frame by one or more hinges at the side. They swing open outside using a crank handle, which allows the placement of an insect screen facing the interior. Casements allow for maximum ventilation through the entire window opening. Unlike vertically hung or horizontally sliding sash windows, casements use compression weatherstripping which is a lot more weathertight. With fewer air leaks, the superior energy savings of casements makes them a better fit for a home in a Northern or coastal climate.
Casements are possibly the earliest type of movable windows in Europe. With lots of recent technological advancements, casement windows are gaining adoption in newer homes built to higher energy savings standards.
We manufacture and install incredibly secure, bright, and energy-saving casement windows. To get the best deal on new casement windows, please request a free estimate.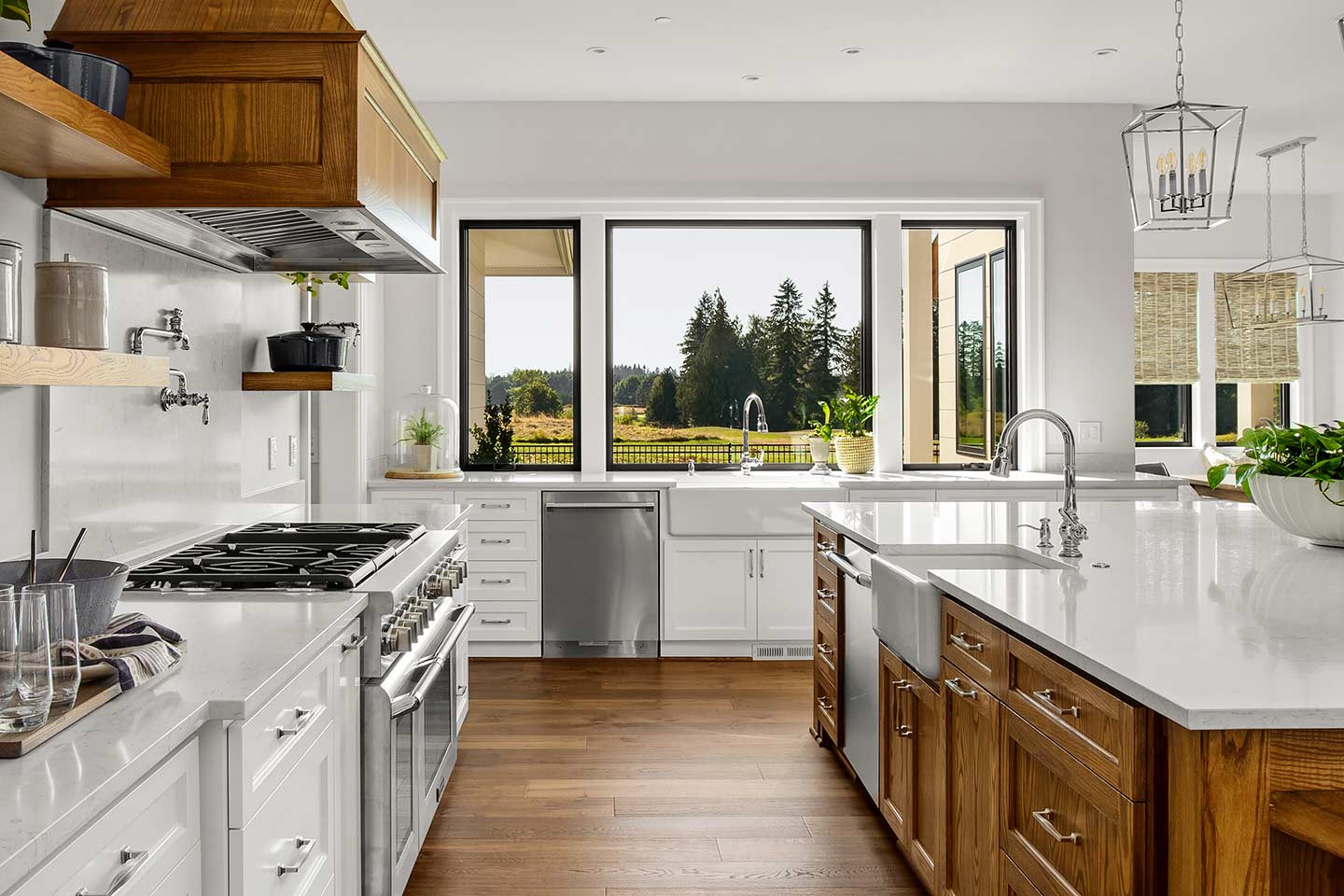 Awning windows
An awning window is essentially a casement that has its sash attached to the frame by hinges at the top. They swing open outside using a crank handle. Awning windows direct water away from the interior, and can help ventilate a room even during light rain. This feature makes them particularly useful in rooms with higher humidity levels, such as kitchens or bathrooms.
Awning windows use airtight compression weatherstripping, yielding a superior energy savings due to fewer air leaks when closed. They are also very secure as the opening distance is limited, preventing unwanted ingress from the outside.
We'll be happy to provide a free estimate on durable, energy-saving, and convenient new awning windows for your home in the Boston, Massachusetts area and beyond.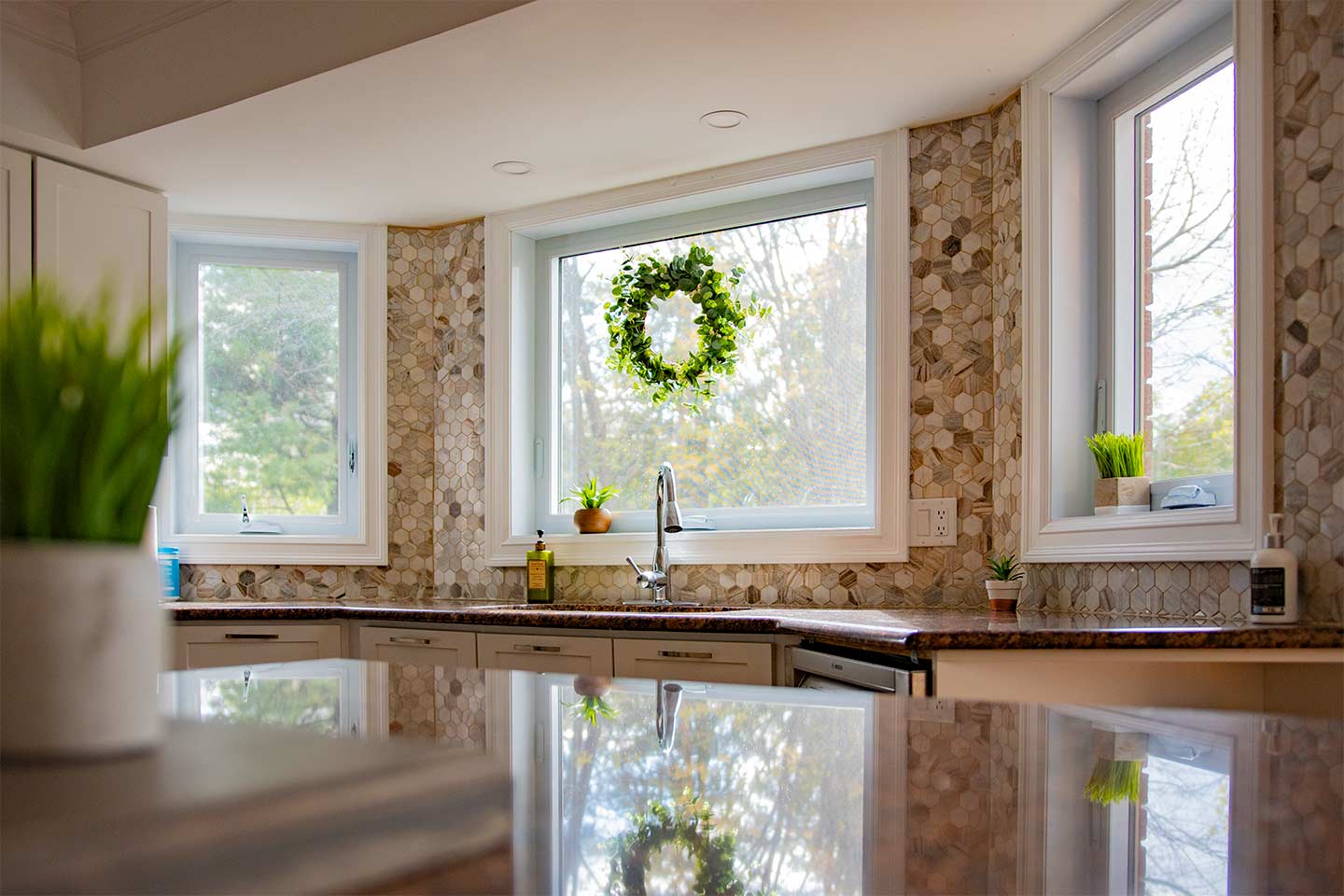 Picture windows
A picture window is essentially what it sounds like: a simple rectangular shaped window that does not open. This is why it is also called a fixed or architectural window. No hardware is used to hold and operate a moving sash – in fact many picture windows don't have a sash per se and the glass is inserted into the window frame itself. Often, an actual window sash is fixed in a window frame, to provide a coordinated sightline with other operable windows in the home. In this case, the window is called a fixed sash – or fixed casement – window.
Without window hardware rated to a maximum sash weight, picture windows can be made much larger than windows that open. Fixed windows are perfect for filling large openings with glass for abundant natural light where no ventilation is required. They are also more airtight than opening windows, making them more energy-saving.
Request a free quote on new bright, energy-saving, and low-maintenance picture windows for your home in the Boston, Massachusetts area and beyond.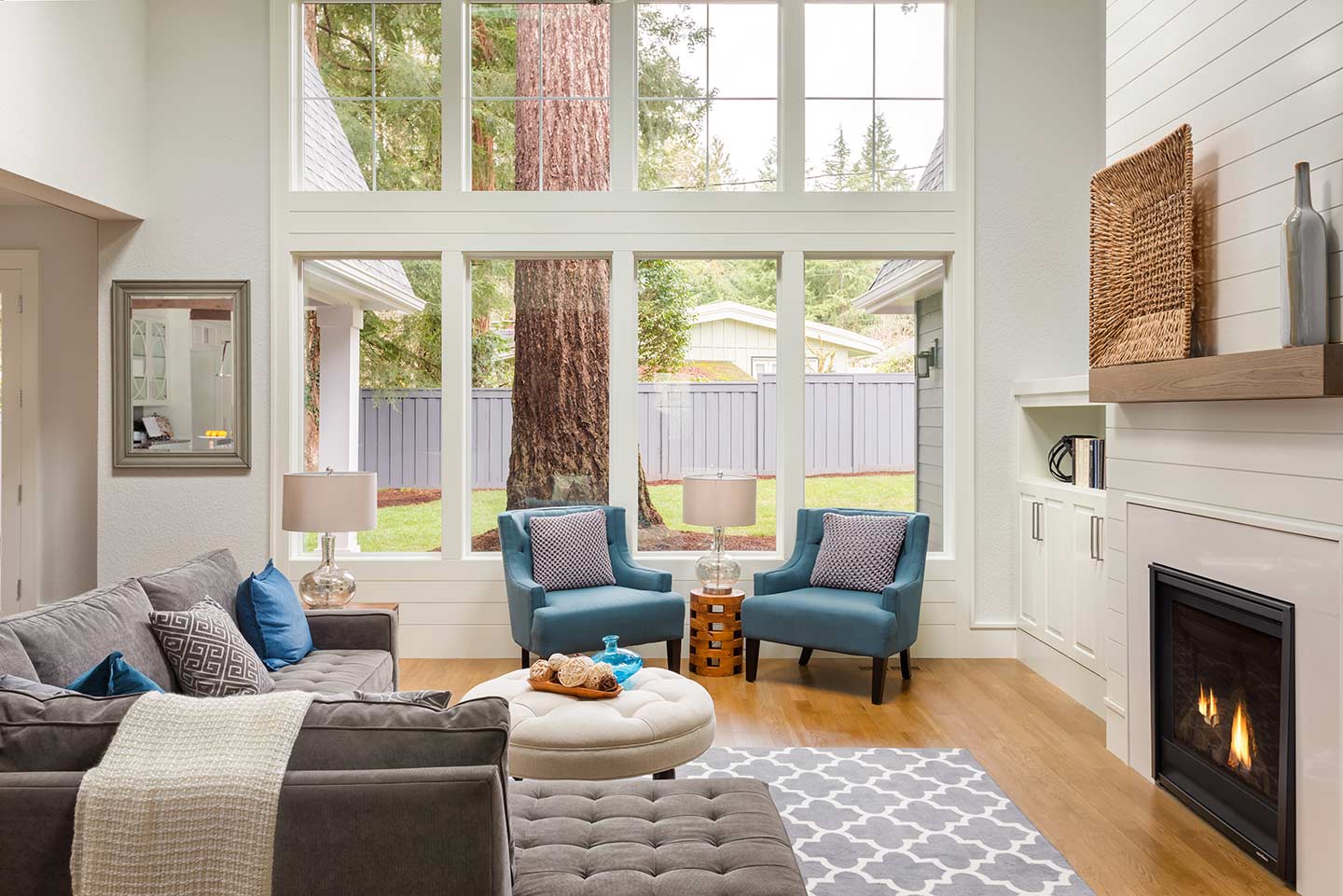 Custom-shaped windows
Picture windows are the type of windows that don't open. While most of them are rectangular, it does not mean they have to be. Picture windows can be manufactured in virtually any shape: angled or triangular t fill a gable to the roof, arched, circular or oval, octagonal — you name it.
Shaped fixed windows bring that extra decorative element that can be defining for a home's unique style. With the air tightness of a non-opening picture window, they are also very energy saving.
We manufacture and install picture windows that are arched, half-moon-shaped, rectangular, elliptical, round, trapezoidal, triangular, and in virtually any shape your home has. Request a free quote on new bright, energy-saving, and low-maintenance shaped windows for your home in the Boston and elsewhere New England.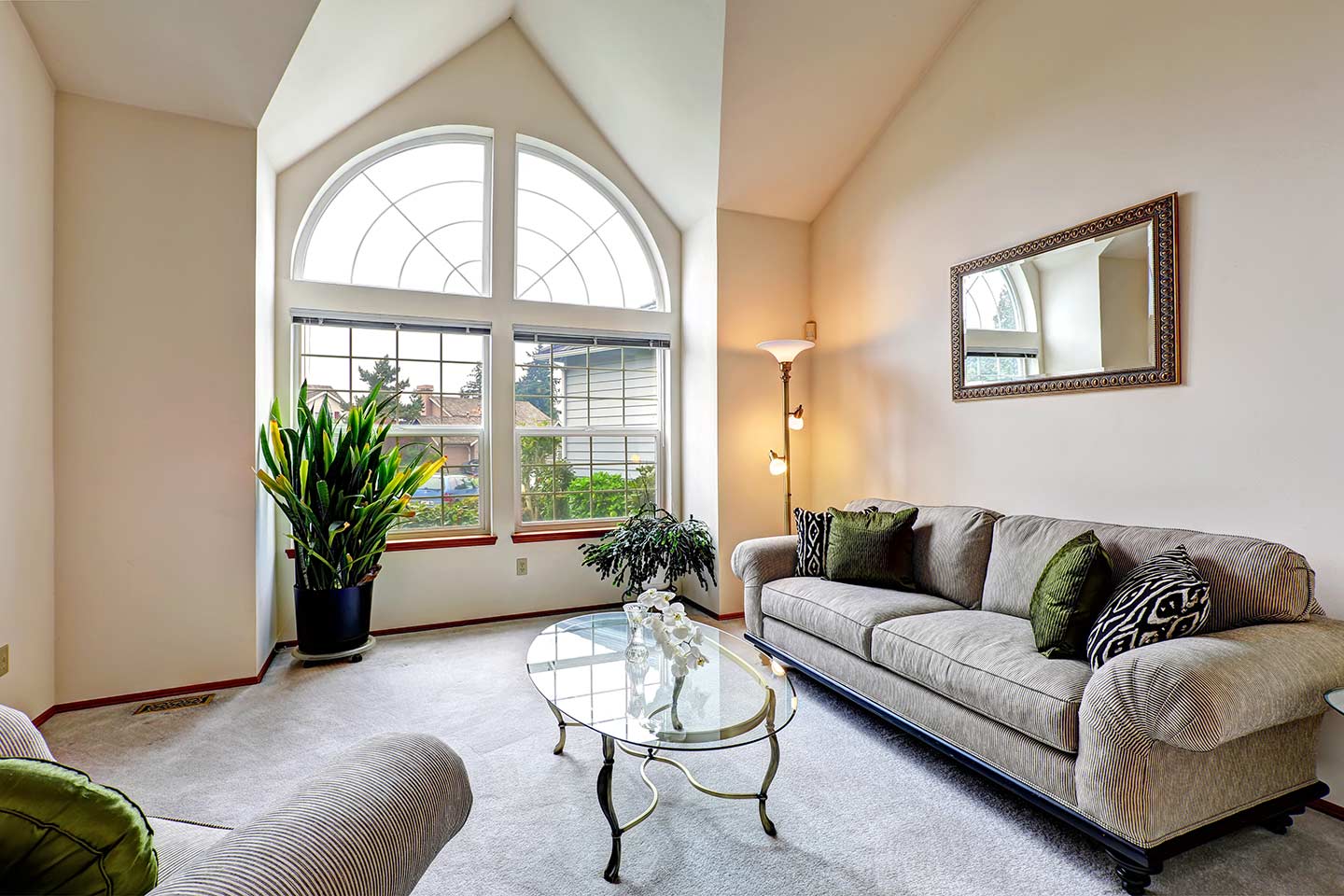 Bay windows
A bay window is combination of several windows, usually three, featuring a larger central lite flanked by two angled windows and protruding outside beyond the wall. The angles are usually 30 or 45 degrees, but can range from small to straight angles, the latter producing what is also called a box window.
Reminiscent of Victorian homes, bay windows were often used to add architectural interest. By providing a vantage point located beyond the wall, they also offer a panoramic view outside. This style element is still sought after in new homes, either with walls framed in bays from ceiling to floor, or with a true bay window that is fitted into a square rough opening and finished with a seat supported by oriels (braces transferring the weight to the wall framing) and capped with its own roof.
If you're looking to replace a bay window in your New England home, or to replace a flat window with a bay, you've come to the right place. Contact us and we'll be happy to design and price a beautiful and energy-saving bay window for you.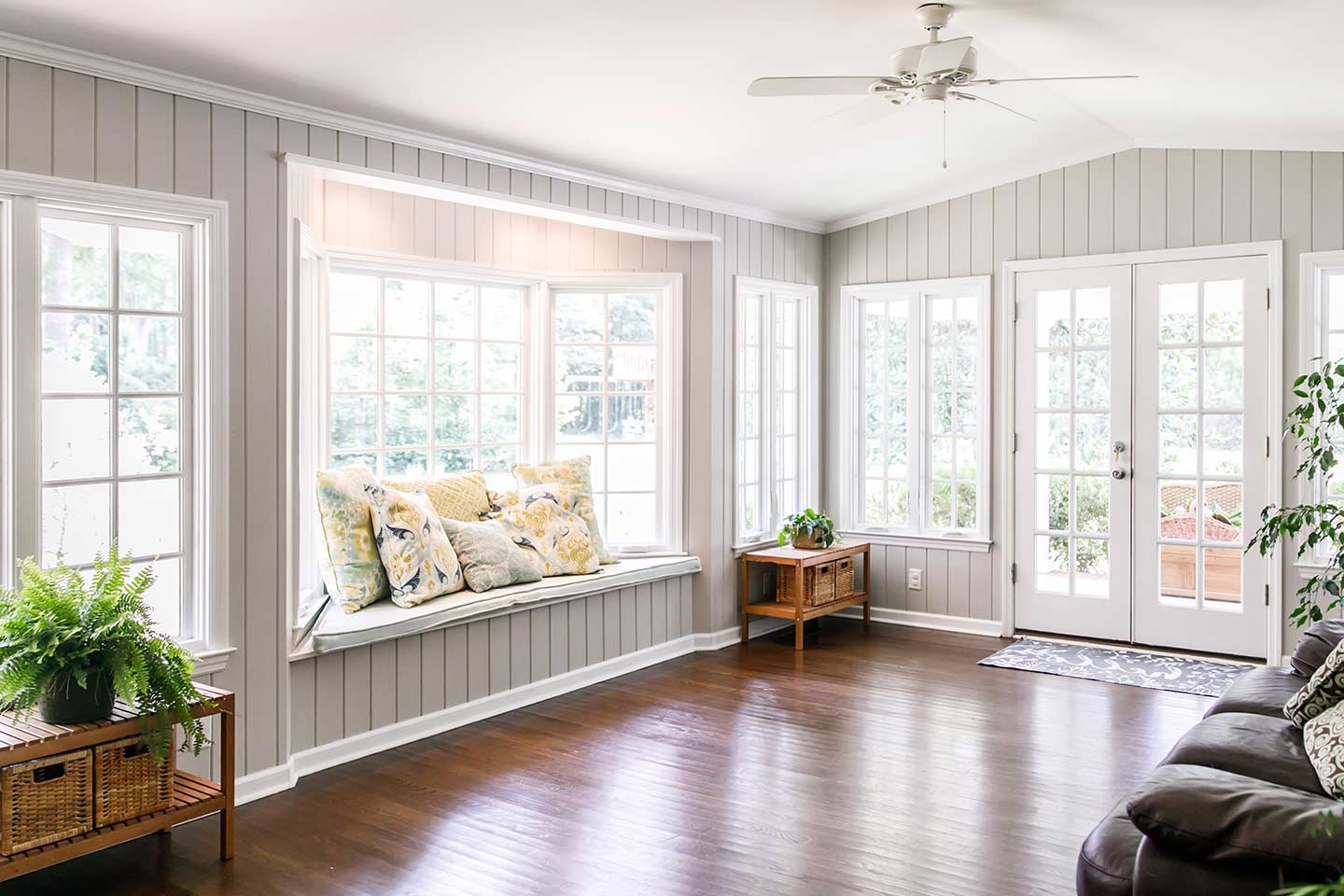 Bow windows
A bow window is essentially a bay window that is built with multiple, usually 5, equal-sized lites arranged in an arc, protruding outside. Apart from adding architectural interest, bow windows can also add functionality by providing extra sill space for plants or décor.
A traditional style reminiscent of English cottages, bow windows have also been adopted in bungalows, ranch homes, and other architectural styles. Bow windows are great for wide openings, and work best installed to fit completely under the overhang of eaves. If you're a cat person, you may find yourself in a territorial dispute with your feline roommate – who doesn't like a window seat that gives a panoramic view of the neighborhood while staying in the comfort and safety of home?
We manufacture and install traditional-styled bow windows with the best new technology available in fenestration today. We'll be happy to provide a free estimate on a bow window for your home in the greater Boston area.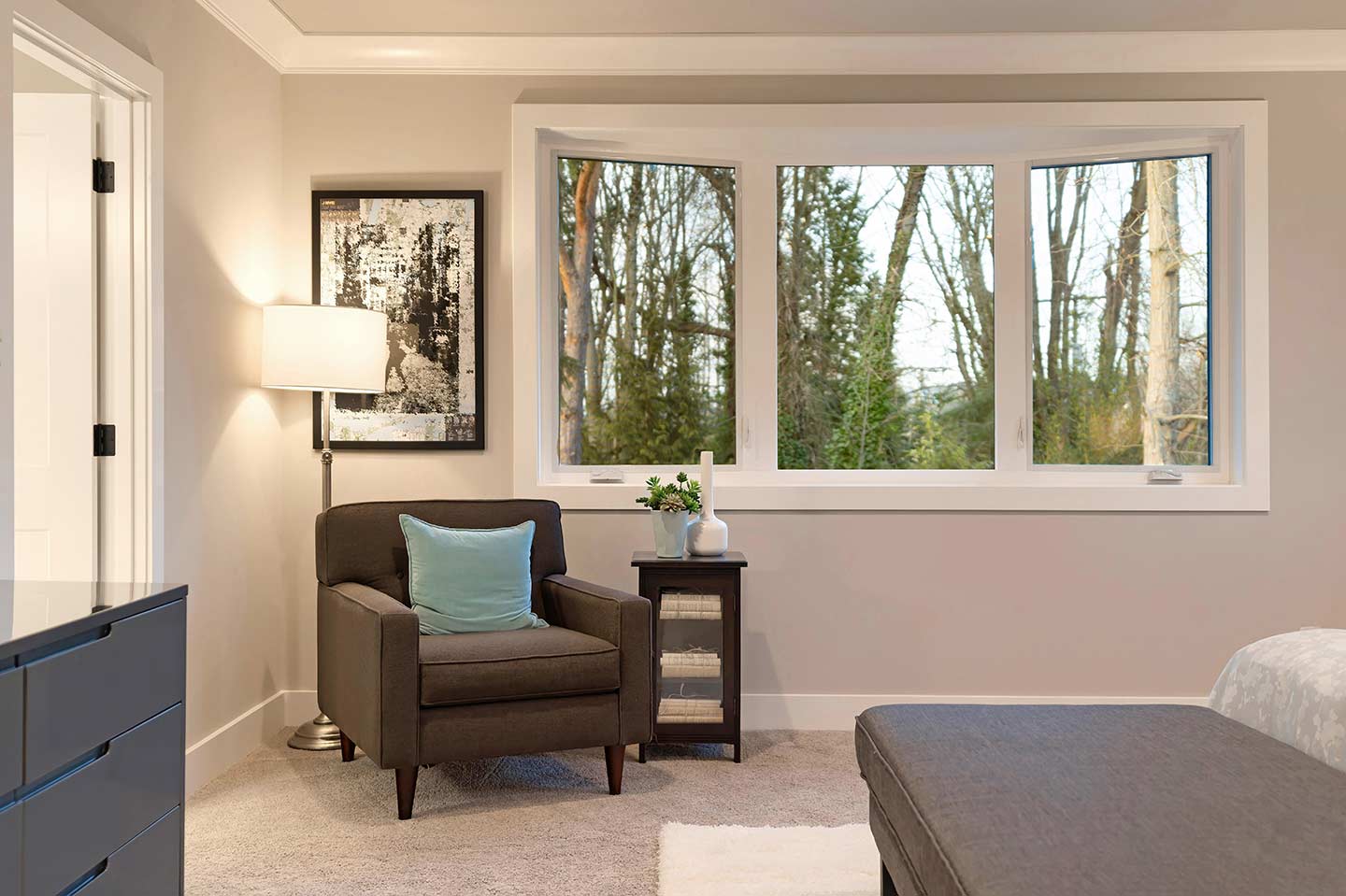 Entry doors
Your front entrance door is the centerpiece of your home, and the exterior shell element that is the most used. You want your exterior doors to be durable as to withstand decades of traffic, secure to keep any unwanted visitors out, and weatherproof to resist decades of pounding from the elements. But most of all, you want your front door to be beautiful, inviting, and to raise your home's curb appeal. We can help with that!
We offer an outstanding selection of door styles. Choose an insulated, virtually-no-maintenance steel exterior door that can be custom-tailored in a unique combination of decorate glass, hardware, and finishes. Or go with a fiberglass door that replicates the beauty of natural wood, without warping, rotting, and pest damage, all while insulating better. All of our doors are made-to-order for every single customer. This way, you get an exact fit and the look you wanted, all backed for 25 years. Get a free estimate to secure a sweet price on a gorgeous front, side, or other entry door for your home.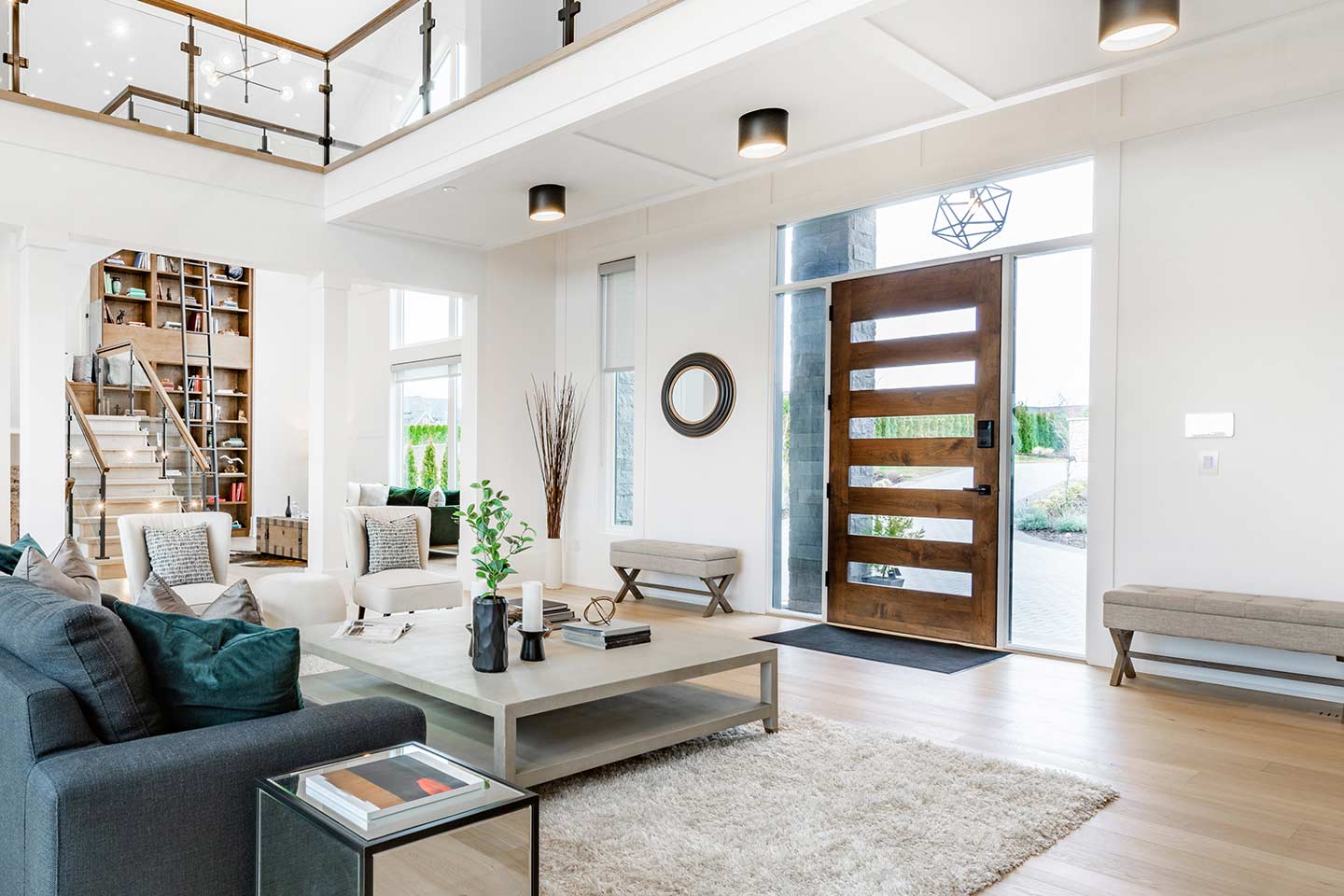 French or garden doors
A garden door is a double entry door without a mullion in between – essentially an exterior French door. Garden doors are usually made with full glass, allowing a wide view outside, that's why they are also called hinged patio doors, or terrace doors. Regardless of what you call them, you want your garden doors to be bright, secure, well insulated and airtight. Garden doors are often chosen over sliding glass doors because one can open them fully, for a wider passageway to the backyard and for maximum ventilation. They will definitely make it easier to transform your dinner into a backyard party.
With our outstanding selection of entry door styles, you can get a garden door that's as unique as you want it to be. You can get your hinged patio doors in your own combination of decorate glass, hardware, and finishes.
All of our doors are made-to-order for every single customer, and backed for 25 years. Get a free estimate to secure the best price on a beautiful garden door for your home.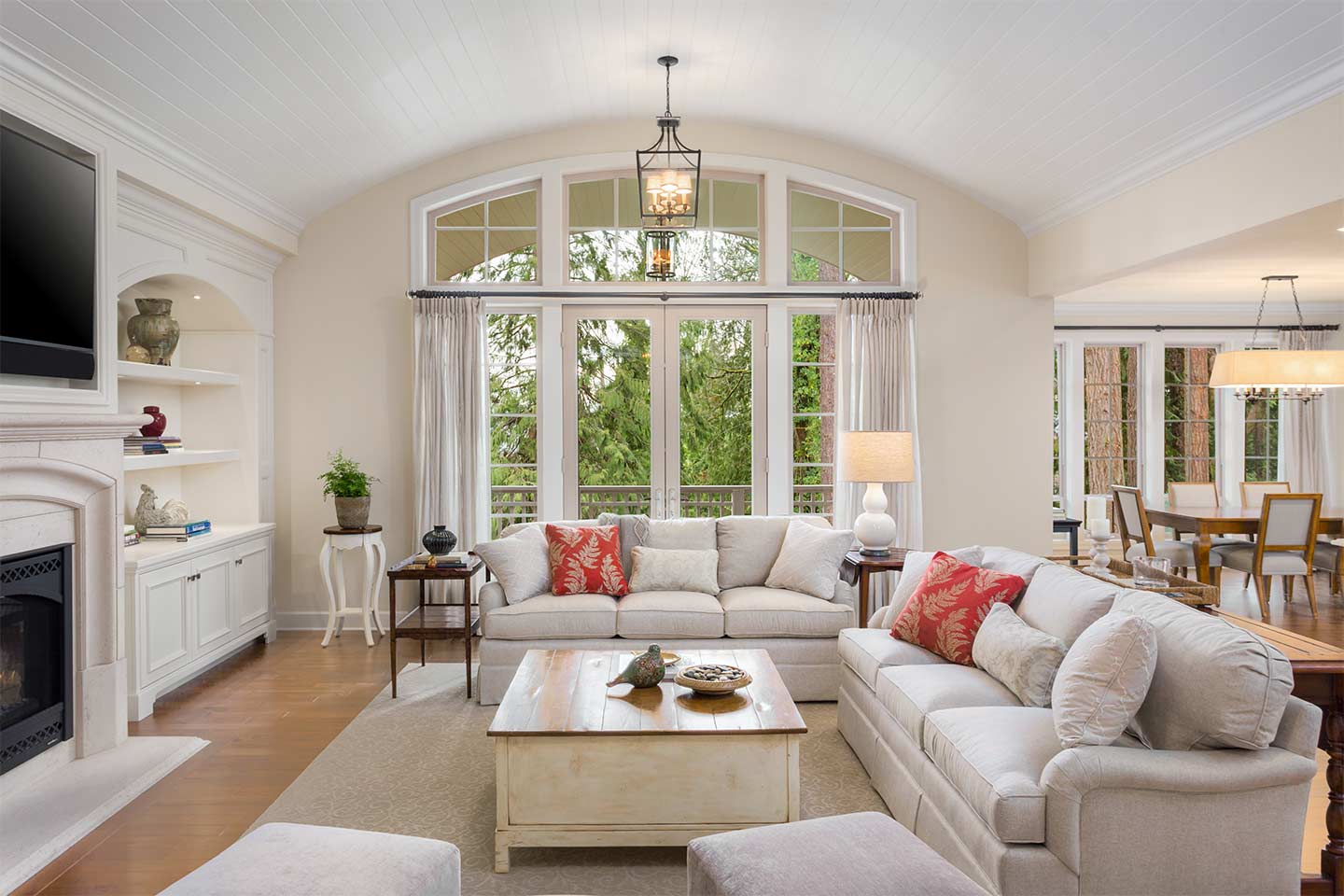 Sliding patio doors
A sliding glass door that opens to a patio, deck, or backyard is usually called a patio door. In some places, it is also called a doorwall. Don't ask us why, but do ask us what's there's not to love about patio doors. Patio doors were introduced to homes in the Western hemisphere fairly recently, and they may have been influenced by older East Asian designs.
Essentially oversized slider windows designed for through traffic and with a tougher construction, patio doors combine the best of entry doors and windows in one. Maximum natural lighting, generous ventilation, and a visually expansion of the home interior outside, all while keeping the indoors comfortable. Made with double and triple-pane glass, low-emissivity coatings, argon gas fills, and warm-edge spacers, and all the latest fenestration technology designed to reduce your home's energy consumption.
Our sliding glass doors are made-to-order in virtually any configuration and size. Get a free estimate for a great price on a beautiful custom patio door for your home.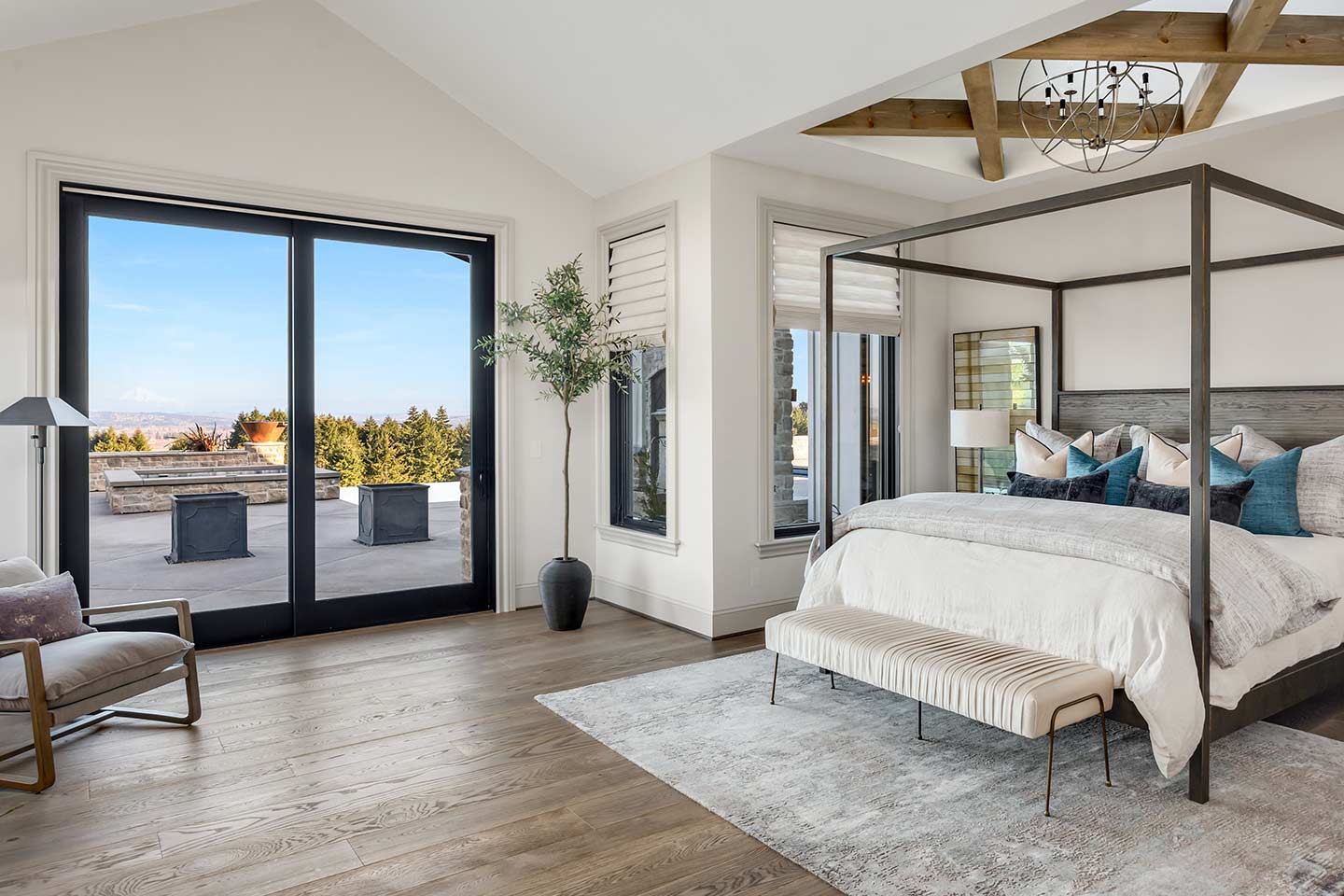 4 Easy Steps for Window and Door Replacement
We understand that home improvements can become a daunting task: so many options, so many product types, so many suppliers. That's why we strive to offer a simple and seamless experience: we'll listen to your needs, suggest the best products and services, all while respecting your budget and offering the best value for your money.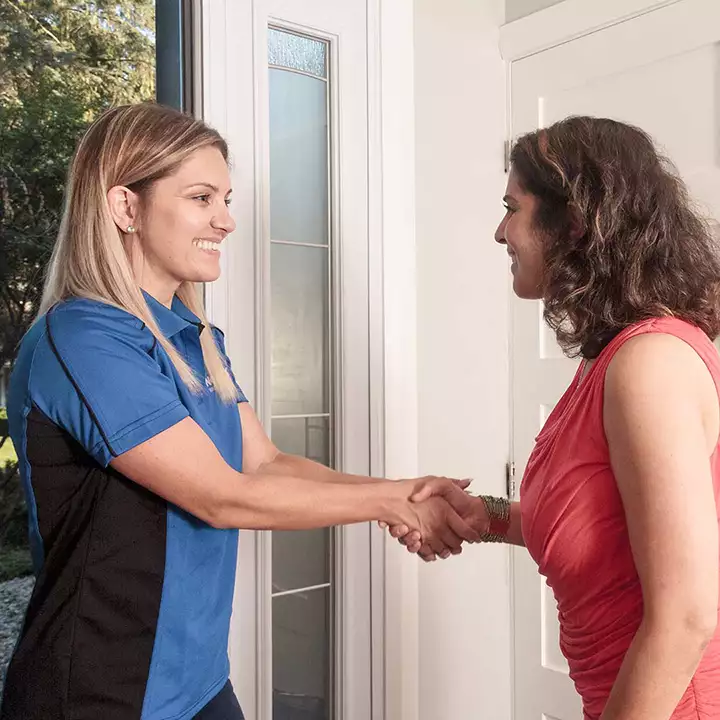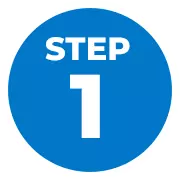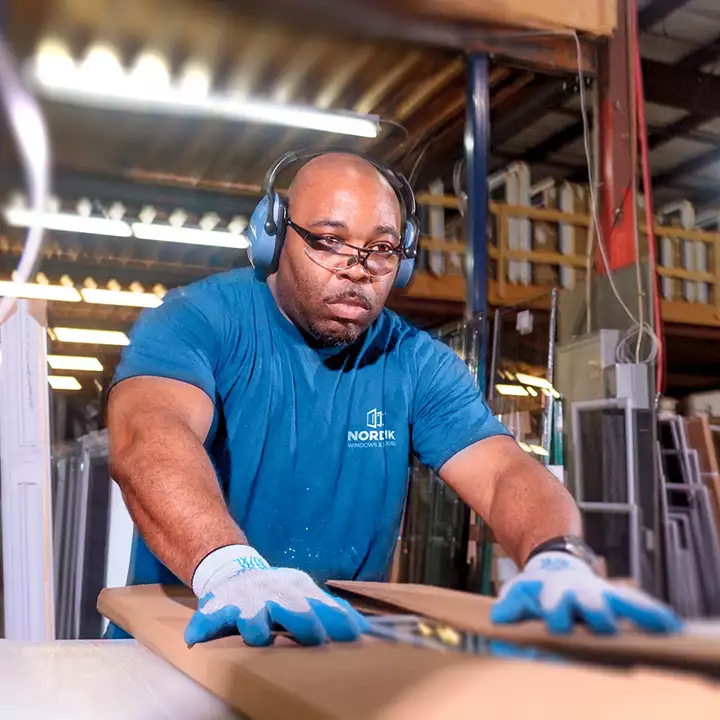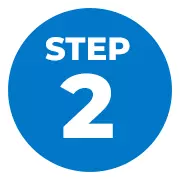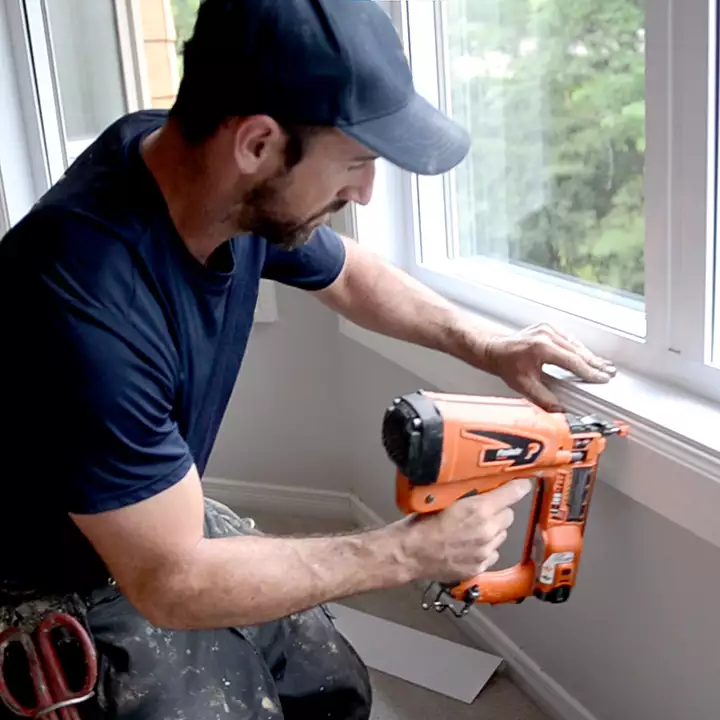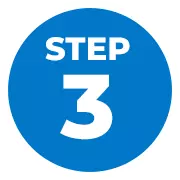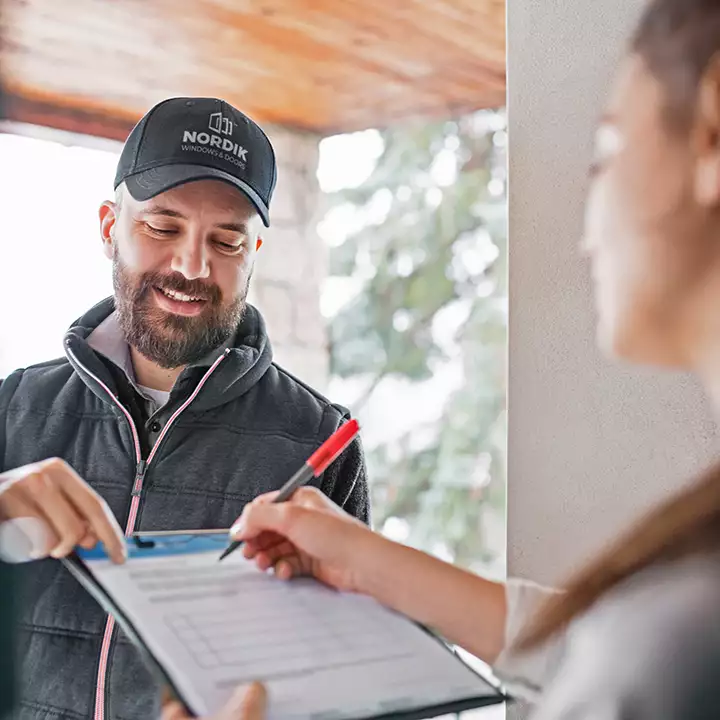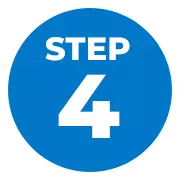 Our Service Area
Nordik Windows & Doors proudly serves homeowners in the Greater Boston Area and Eastern Massachusetts, including the cities and towns of: Boston, Cambridge, Dorchester, Brockton, Quincy, New Bedford, Fall River, Newton, Somerville, Framingham, Malden, Waltham, Brookline, Revere, Plymouth, Medford, Taunton, Weymouth, Peabody, Everett, Attleboro, Arlington, Salem, and beyond.
75 Stockwell Drive, Unit 12, Avon, MA 02322
The Nordik Difference
We provide our customers with a simple, worry-free experience and we back up everything we do with one of the best warranties in Boston and Eastern Massachusetts. Here's what makes us unique:
Buy Factory-Direct
No middleman. No delays. No extra fees. No excuses. At Nordik you're dealing directly with the manufacturer. You get factory-direct pricing and service on your custom-built windows and doors.
Exceptional Value
You'll be hard pressed to find a better value for your hard-earned money. Our customers save more with Nordik's competitive pricing and massive volume discounts – automatically.
Easy Payment Plans
We make it easier for you to undertake top-quality home improvements by offering multiple budget-friendly financing options to choose from.
Customer Care Guarantee
We back up everything we do with a simple promise - if there's ever a problem with any of our products or services we'll fix it right away. We'll make it right. Our goal is to create customers for life.
25-Year Warranty
Our "No-Bull" Warranty covers everything: products, installation, and any service required for 25 years. No exceptions. No fine print. Just the peace of mind knowing that you'll be taken care of.
Innovative Products
From the day we opened our doors in 1982 we have been committed to bringing the best new innovations in windows and doors to market at an affordable price.
Words from your Boston Neighbors
We take great pride in a job well done, but having our customers share their Nordik experience makes us as happy as a clam. Here is what some of our clients in the Boston area have to say:
About Nordik Windows and Doors
As a family-owned and operated business, we take pride in providing the complete window replacement experience, from sales to installation and after-sale support. Our hassle-free process offers peace of mind knowing that you get the most energy-saving and durable windows and the best quality on made-to-order doors. All manufactured in state-of-the-art facilities and certified to the highest national standards.
Our commitment to service is backed by one of the most comprehensive and simplest warranties in the industry. Everything we install is covered for 25 years straight, parts and labor. The trust of thousands of homeowners has earned us the BBB Accredited Business A+ rating as well as multiple awards. Request a free consultation to get started with a Nordik Windows and Doors professional in your area today.
Trust the experts.
Your FREE in-home consultation will answer all your questions regarding design style, product color choices, and our painless installation procedure.