Nordik's 25-Year
'No-Bull' Warranty
Everything we install is covered for 25 years straight: product, installation, and service – parts and labor. If something breaks through no fault of yours, we'll be there to make it right. At no cost to you, nor to the future owners. No fine print, no exemptions, No Bull.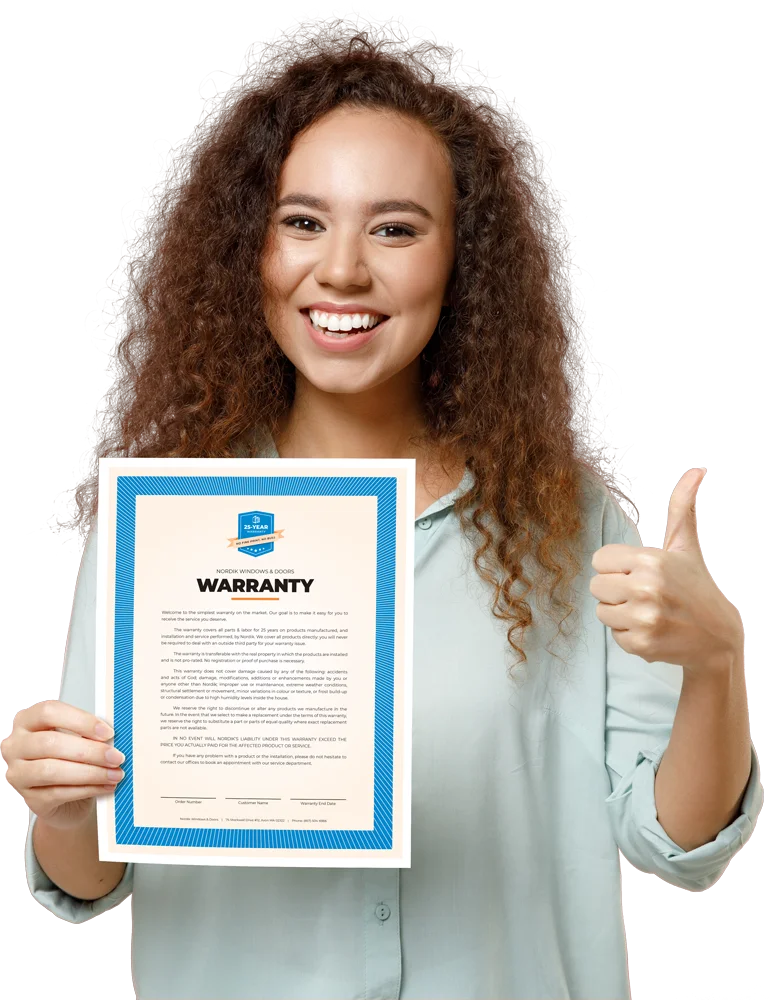 A warranty is only as good as the company standing behind it. It should be a promise that if anything goes wrong with your purchase, the problem will be resolved at no cost to you. But not all window and door companies see it this way. In fact, many warranties only cover the product itself. We think that's simply not good enough.
We believe that all parts and labor related to the installation of your doors and windows should be included in the life of your warranty — so the Nordik "No-Bull" Warranty covers sheet metal flashing, carpentry, foam insulation — everything that's part of the installation process.
The reason installation isn't even mentioned in many warranties is because the company that makes your windows or doors is most often not the same company that sells and installs them. The installation process is just as important as the quality of the windows themselves. A poorly installed window or door won't work properly. And what's even worse - if something goes wrong, you could end up stuck between two companies blaming each other for your problem. Is that something you feel like doing?
Finally, we believe that any ongoing service requirements should be covered in your warranty. If your front door doesn't close properly after 12 years or the crank breaks on your window because you like fresh air and open it a lot, that's our problem, not yours.
The Nordik "No-Bull" Warranty means you can buy our windows and doors with peace of mind for the life of the warranty. It's that simple.
OUR WARRANTY
COVERS EVERYTHING.
Here's how our "No-Bull" Warranty measures up to the competition:
NORDIK'S 25-YEAR "NO-BULL" WARRANTY
25 years, parts and labor
Transferable at any time
No proof of purchase necessary
Not pro-rated
Simple
TYPICAL "LIMITED LIFETIME" WARRANTY
Labor not included after first year (@ $100 per hour or more)
"Lifetime" on specific parts only
Pages of small print and complex legal language
Multiple exclusions
"Normal wear and tear" not covered
Different warranties between manufacturer and installer
Cumbersome warranty registration processes
Complicated warranty claim processes
Long wait times on warranty or service claims – weeks and months
Keep it Simple. Cut the Bull.
Schedule your FREE consultation and take advantage of the best warranty in the industry