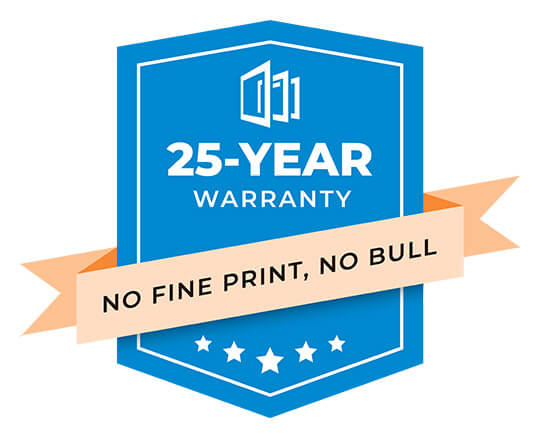 Our warranty just got better! As of June 1st, 2020, every window and door we install is now covered for 25 years. That's 25 years on product, installation, and service – parts and labour. No Bull.
Back in 2007, when we launched our "No-Bull" Warranty, the coverage was for 20 years. As of June 1st 2020, our warranty term is 25 years. It now offers better coverage and a longer term than virtually all lifetime warranties out there. Here is what makes it better:
It is simple, comprehensive, and fits on one page. Every term is clear and upfront, without fine print, or hidden conditions. Hence the "No-Bull" name.
We're a full-service window and door company. We take care of everything – we manufacture, install, and service. If something breaks when it shouldn't, we're there to make it right instead of blaming others.
Our warranty is non-pro-rated, meaning that any required service is free.
No proof of purchase is necessary, as we have everything we install on file.
The warranty is transferable, and future owners automatically get the remaining coverage.
It doesn't just cover products against manufacturing defects, but also their installation and any service needed – parts and labour – for the life of the warranty.