We can help Finance your window or door project.
Alongside our partners, SNAP Financial, we can help finance your window or door project with one of three following financing options:
No payments for 3 months
Upgrade your Windows and Doors today and don't make any payments for 3 months.
24 equal monthly payments
Pay for replacement windows and doors in comfortable monthly installments over two years.
Low monthly payment plan
Get quality windows and doors without breaking your budget by stretching your payments over longer periods.
Count on our 25-year Nordik Warranty.
Residents of Oakville consistently tell us stories of companies in our industry offering seemingly unbeatable warranties on their windows, only to find hidden conditions, or companies offering a warranty on their doors, then not being around to honor it when something goes wrong. With over 30-years of industry experience, you can count us on being around to honor our 25-year Nordik Warranty, and to provide an unbeatable customer experience through it all.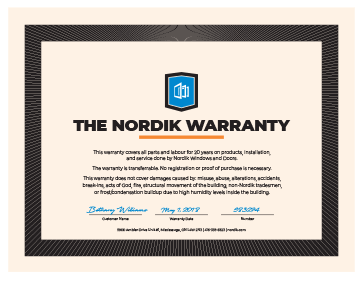 Browse Our Selection of Window Types.
Whether you want your window to open up, down left or right, we have the window for you. See our selection of window types below.
Beautiful Entry Doors and Patio Doors in Oakville.
We offer and install top quality, Canadian-built doors, available in a wide range of styles and finishes and customizable to any home.
Choose Nordik for your next replacement window and door project.
Count on our industry experience and knowledge for your Oakville project. Schedule your FREE in-home consultation!
Confidential. Secure. No Spam.