Our new RevoCell line of mPVC windows were designed and built in Canada to keep homes comfortable in the extremes of our climate, while providing significant savings to energy bills. RevoCell windows are the perfect home upgrade for cost-conscious, green-minded, and discerning homeowner.
Microcellular PVC windows are stronger, more durable, and more energy efficient than regular hollow-chamber PVC windows.
Hollow-chamber vinyl replacement windows have become standard in Canada since the 1980s. They are made from polyvinyl chloride (PVC). Window-grade unplasticised PVC (uPVC) is different from the vinyl used in making plumbing pipes, electrical conduit, and other plastic items because the latter does not include plasticizers and other chemicals designed to make the material softer or more elastic. PVC replacement windows components are extruded with hollow chambers. The hollow chamber construction makes windows lighter and allows for easier welding of the frame components, while using air as an insulator. The hollow chambers are designed to evacuate water from condensation or ingress, with graded slopes and specially drilled holes, which allows for a certain air circulation inside. The walls between the chambers are thin, and the entire window is flexible when subject to strong external forces. These forces - like the natural movement of a home - can result in bending, cracking, and the failure of the airtight seals which can compromise the thermal efficiency of the window.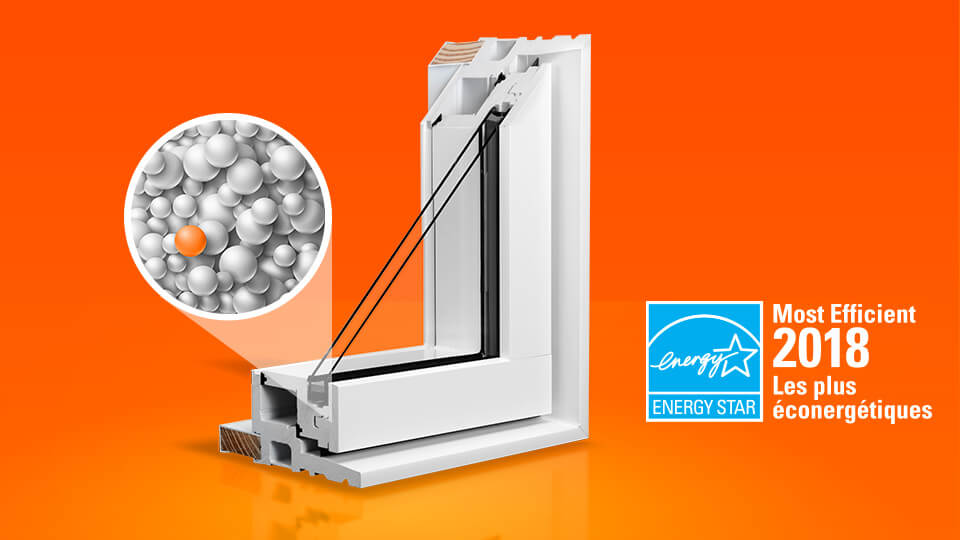 The RevoCell microcellular PVC windows are made from polyvinyl chloride as well. The manufacturing process is different, however, in that a neutral gas is dissolved at high pressure into the PVC, forming microscopic bubbles in a process called nucleation during a carefully controlled extrusion process. The result is a solid material that is strong and lightweight - like bone.
All of the exterior surfaces are fused with a solid PVC shell that acts as an impervious barrier to water and air. The resulting closed-cell interior structure is 70% more insulating than wood, and up to 2000% more so than aluminium. That allows yielding ER (Energy Rating) values in the 38-40 range on standard dual-pane windows, a energy efficiency normally reserved for the more expensive and heavier triple-pane windows.
Microcellular PVC windows are solid throughout — sashes, mullions, jambs, frames, sills, and brickmould alike. The material can be milled, sawn, and otherwise fabricated just like wood, without the breakage and extra waste. It also has a better screw holding power than wood.
Our RevoCell windows use a stronger 4-½" frame, as opposed to the more commonly used 3-½"frame. Our larger, multi-window frames are made from a single, continuous, one piece construction unlike most traditional PVC, multi-window constructions that are screwed together which results in poorer window strength and the possibility of water and air infiltration.
RevoCell solid-core windows offer more glazing area which allows more natural light than hollow-chambered PVC windows
The strength of the microcellular PVC material allows for thinner window frames which allows more glass in your window. The structural one-piece construction of RevoCell windows further reduces lost glazing space. As an example, if you have a large window opening where you want two casement windows, topped by an awning window hinged above. You are likely to end up with three separate windows, each with its own frame, being screwed and glued together, possibly with reinforcements and extra finishing between. A RevoCell window would be made for you with a single frame with a slim but strong T-shaped mullion inside, with the three operated window panels sitting snugly together. With about three inches more glazing on either side compared to a hollow chamber PVC window, you will end up with a window that's up to 20% brighter (20% more glass.)
RevoCell MicroCellular PVC windows are more durable than wood or PVC windows
Wood windows, albeit attractive, have serious shortcomings. First, wood is a naturally perishable material. Wood windows will crack, splinter, warp, absorb moisture, and rot over time. These risks are further exacerbated in areas of climate extremes, such as Canada, where wood windows decay faster from temperature extremes and exposure to punishing freeze-thaw cycles.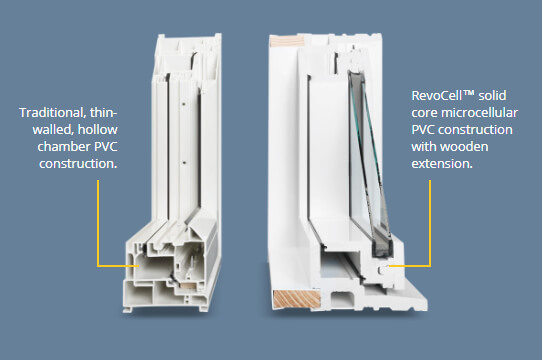 Wood is also prone to insect and other pest damage. The ease of maintenance of metal or PVC windows, with the increased demand and supply and technological improvements in manufacturing, have made wood windows a niche or luxury product, subsequently driving their prices up. Wood windows, while attractive and relatively energy efficient, need thorough and costly weatherproofing treatment both during manufacturing and at regular intervals thereafter, adding considerably to their cost of ownership in the long run.
Like regular vinyl windows, RevoCell microcellular PVC windows don't need painting, sealing, or other upkeep except for the occasional cleaning and hardware lubrication. They are completely weatherproof and won't deteriorate over time like wood. mPVC windows will outlast hollow-chambered vinyl windows which are not as strong and tend to wear out faster with extensive use. Microcellular PVC has better screw-holding power than hollow PVC and even pine – screws being used during the installation of operator hardware – making for a more solid and durable assembly overall.
Comparing RevoCell windows to high-performance aluminium ones, it is worth noting that aluminium is inherently a great heat conductor — hence a poor insulator. Quality aluminium windows achieve their performance from multiple seals and thermal breaks — insulating synthetic elements positioned between the outer and inner shells. However, aluminium parts put extra stress on the thermal breaks and seals by allowing extreme temperatures through. A rubber weatherstripping will decay and wear out faster when it is exposed to cycles of scorching heat and deep freezes. Aluminium does tend to get hot in summer – many novice window fitters get burns when attempting to remove old metal windows on southwestern exposures without proper protection – with temperatures easily building up to the 80 degrees Celsius (180 Fahrenheit) range. Most seals start melting and deforming at such temperatures, compromising thermal efficiency. As for winter, think of all the times your tongue got frozen to a metal object when you were a kid.
Rubber and plastic become brittle in extreme cold, and can fail from regular use. PVC is an insulator that prevents such temperature extremes, so a seal failure on a PVC window is less likely over time than on an aluminium window. The extra insulation of microcellular PVC reduce the thermal stress on seals even more, while the solid construction exerts lower mechanical stress. It is very likely that a microcellular PVC window will last longer than an aluminium window of similar performance, all while costing a fraction of the latter.
Do I need Triple Pane Windows?
Triple-pane insulated glass units were designed to offer better insulation and hence energy efficiency. This advantage comes at the cost of reduced luminosity (three layers of glass being on average 50% darker than two) and added weight (again, glazing with all spacers and seals being about 50% heavier overall). This means bulkier window frames and sashes to support the added weight, and more strain on the window hardware. The operator hardware is available in different grades, and more heavy-duty ones have to be used for larger and heavier windows, which is an added cost on properly-made triple panes.
Triple pane windows, being heavier, also require more effort to install properly. All of the extra material and labour needed to manufacture and install three-pane windows, as well as their increased risk of failure over time, translate into a cost difference to the consumer that may be harder to recoup in energy savings. Windows with three layers of glazing are darker, which is a disadvantage over dual-pane windows, as the primary function of windows is to allow natural light inside the building. It is easier to achieve "passive house standard" energy efficiency with more efficient double glazing than with triple — solar heat gain being very important during cold winters.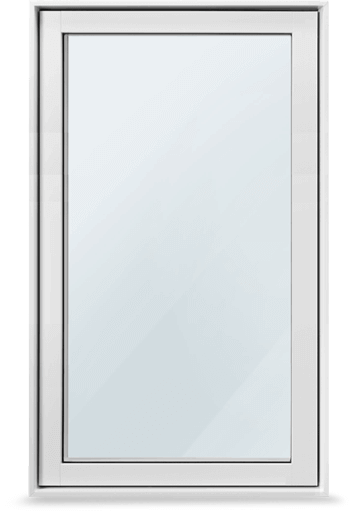 The better insulation and airtightness of RevoCell microcellular PVC windows allow achieving and exceeding the energy efficiency of triple-pane windows, while using only a dual-pane insulated glass unit with argon fill, regular low-emissivity glazing, and a quality cellular warm-edge spacer. These windows use less material, are lighter but stronger, and are easier to install. Our RevoCell Window costs about the same as other regular, dual-pane PVC replacement windows, all while offering the performance of triple-pane without the drawbacks.
The solid-core RevoCell microcellular PVC windows offer unbeatable value with superior performance and low cost
Our RevoCell mPVC windows offer the highest return on investment among the replacement windows available on the Ontario market today. Their solid construction makes them durable and strong, achieving ratings comparable to aluminium windows. They offer triple-pane energy efficiency without the drawbacks or the added cost, and these windows are priced like a regular dual-pane hollow-chamber PVC replacement window.
When you factor in the our comprehensive 20-year warranty - that covers everything, from manufacturing to installation and service, material and labour - you know your getting the best value in replacement windows available in Ontario.