So you've signed your contract, and are ready to get your new windows or doors installed; what an exciting time! If it's your first time getting replacement windows and doors, you may have no idea how the installation process will go. Here at Nordik, we try to make things as smooth as possible, so naturally, we've put together a small article on what to expect on installation day.
Crew Arrival
You should have received an email with an estimate of what time the crew will be arriving. Why such a range of time? Installations are part art, part science. Every house is unique, and as experienced as we are, we just don't know what the installation will be like until the old window comes out, and our professionals take a look at what's there. If our crew is going to be extremely late, or if for some reason they are won't be able to make it, someone will give you a call.
All our trucks are beautifully branded so you know it's us. Our installers will introduce themselves and ask for your permission to back up on your driveway. Depending on the size of your driveway it might be a good idea to have all other vehicles cleared from the driveway for safety purpose.
Installation
The large majority of our replacement window and door installations are finished in one day. Some larger projects may require 2-3 days. Occasionally the Installation Coordinator will assign a second crew to minimize the duration of the total renovation. Each of crews have a crew leader who is responsible for your entire installation project. If you have any questions you may speak with him or you can call the office and ask for the installation manager. They will answer any of your concerns and resolve any issues you may have, usually in the same day.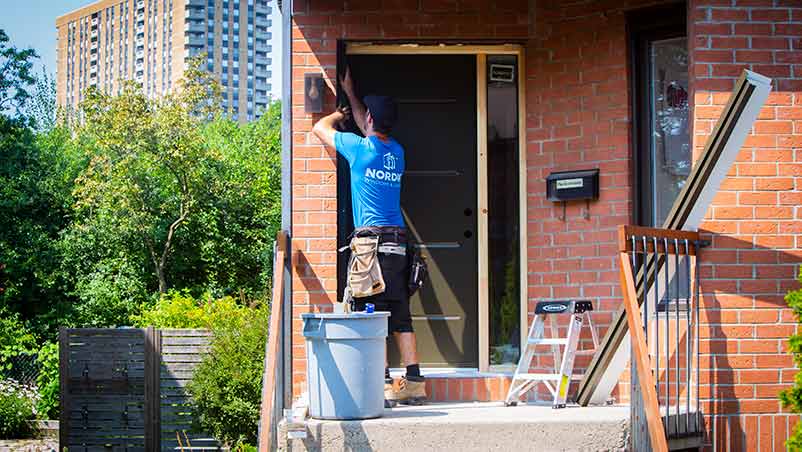 Before starting, our crew will place clean moving blankets around the working area so your floor is protected in all areas of your home where the work is being done. They will also slip on disposable boot covers over their work boots. If you have any furniture that you want to stay clean, we reccomend covering it up with a drop cloth. When the old window is removed, it's not uncommon for dust and debris to be blown around.
On cold days, only one window is removed at a time, preparing the opening and installing the new window before removing the next window. This will keep your home from losing too much heat.
Finishing Up
As each work area is finished, debris will be removed to ensure the area is left tidy.
Once the installation is in its final stages the crew leader will show you the correct way to operate your new windows and doors. He will then ask you to fill out a completion slip and sign any finance papers and collect payment. Ensure you have your final check ready on your installation day!