Nordik Bay & Bow Windows
Our Bay, bow and box windows are composed of multiple panels, usually of the fixed and casement window types, which function as a single unit and protrude to the outside. These composite windows expand the indoor space and make a connection from the home's interior to the outdoors. Allowing ample light to enter the room from 180 degrees, bow and bay windows brighten interiors, and function as centrepiece exterior decorative elements, adding curb appeal. From standard configurations to complex custom arrangements, we design and custom tailor the Nordik bay and bow windows to exact lighting and ventilation requirements, and to match any home style.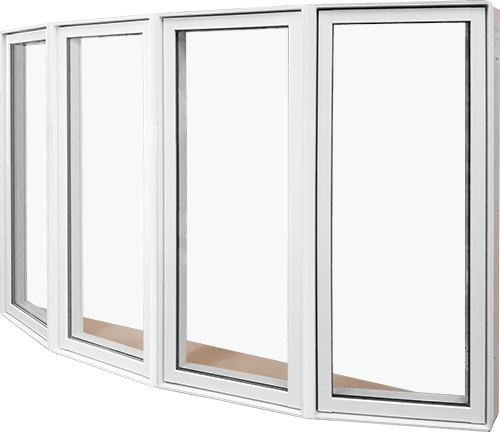 RevoCell® Bay & Bow Window Features
Beautiful, strong, efficient, and virtually maintenance-free, our bay & bow windows will elevate your home's curb appeal and interior design.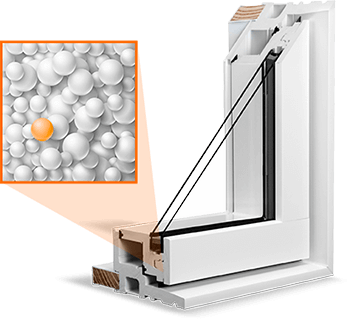 Solid microcellular PVC insulated frames, sashes, and mullions.
RevoCell™ is designed with a revolutionary microcellular PVC structure which is superior to the hollow-chambered frame used in traditional PVC windows. This alows you to get the solidity and the performance of wood without the maintenance.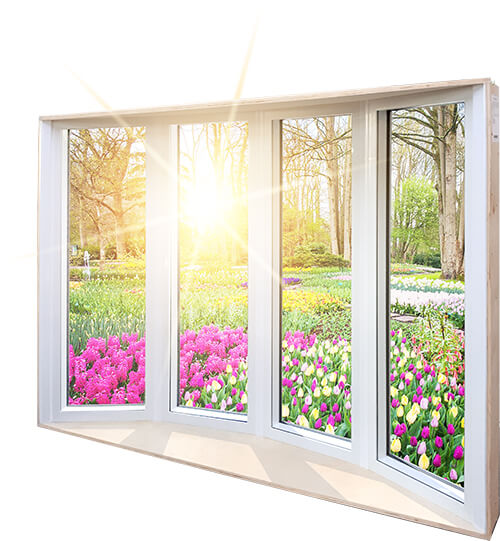 Modern design with a lot more glass than traditional PVC windows.
The strength of the RevoCell™ microcellullar PVC construction alows for leaner frames, sashes, and mullions, which in turn allows for larger glazing. Namely, 1-1/2'' more glass on both height and width. On a double-sash window, that's up to 20% more glazing. Isn't that what you want from a window in the first place?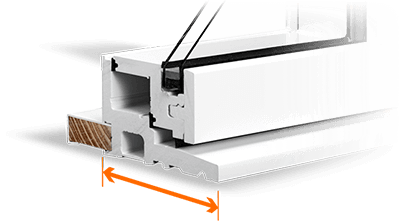 4-1/2" mPVC fusion welded frame.
Our 4-1/2″ deep mPVC frame is stronger and more durable than the standard 3-1/4″ frame available from most other window manufacturers. Our larger frame allows us to put the thermal pane closer to the inside of the house resulting in better thermal protection and a stronger window.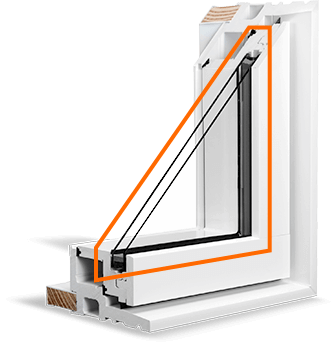 Double-Glazed Low-E Argon Gas Thermal Glass Unit.
We use Energy Star® certified, double-glazed glass units that provide the highest levels of energy efficiency and home comfort, as well as protect against harmful UV radiation.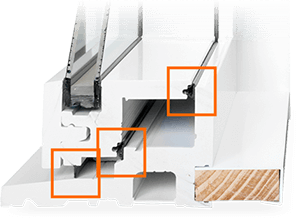 Triple compression weather seals.
Our window seal is made up of three continuous layers that wrap seamlessly around the entire window. These top quality flexible seals offer the highest degree of protection from air and water infiltration.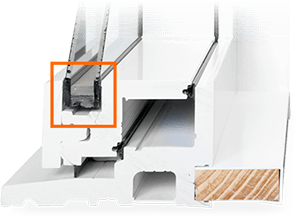 High-Performance Tremco® EnerEDGE® Warm-Edge Spacer.
Tremco® EnerEDGE® Warm-edge spacer system is highly durable and possesses a lower thermal conductivity value. This results in superior thermal performance when compared to the commonly used aluminum spacer bar.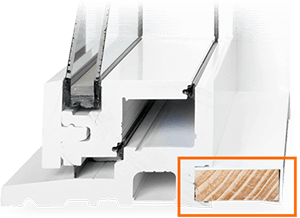 Interior Wood Extension cladded with PVC.
Our windows include an interior wood cladding that allows for the easy installation of blinds and other window treatments and results in greater window strength and durability.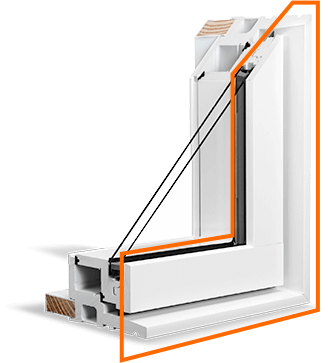 Easy-Maintenance High Gloss Finish.
We use the highest grade PVC powder and fabrication techniques which result in a high gloss PVC finish. As a result, our windows are easier to clean, more durable, and won't fade or yellow over time.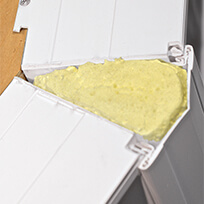 Foam Insulated Post for Bay Window.
We insulate our posts with foam to give you optimal energy efficiency. This, combined with our advanced, superior structural construction is what makes our windows Energy Star® High Efficiency rated.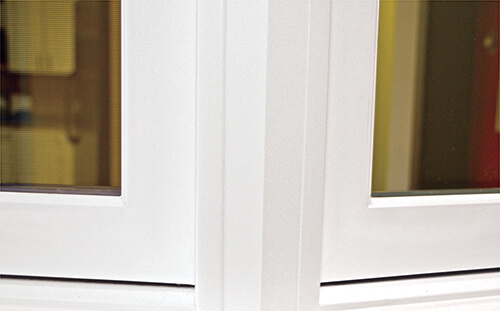 Exterior Bay Window Angle Mullion.
Our angled mullion allows you to get all the benefits of a beautiful bay window and ensures you get our solid structural frame for better protection and more light for your windows.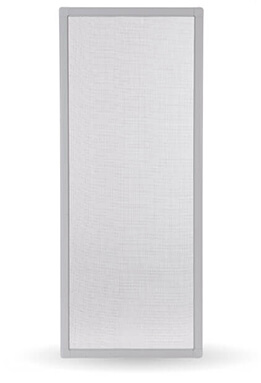 Smooth Edge, "One-Click", Easy-to-Remove Screen.
Our "One Click" screens are the easiest screens to operate in the industry. With their durable, yet elegant, aluminum finish, these screens won't warp or break down over time like some of the competition.
There are plenty of details that make our windows best in class. Contact us for a free consultation if you'd like to learn more.
RevoCell® Window Colours
Our bay & bow windows are available in 8 standard exterior colours, and a white interior colour. The colour is applied via a heavy-duty membrane that will withstand temperature extremes, handling, sun's damaging UV rays, and severe weather, for a maintenance-free great look that won't fade, crack, or peel for many years to come.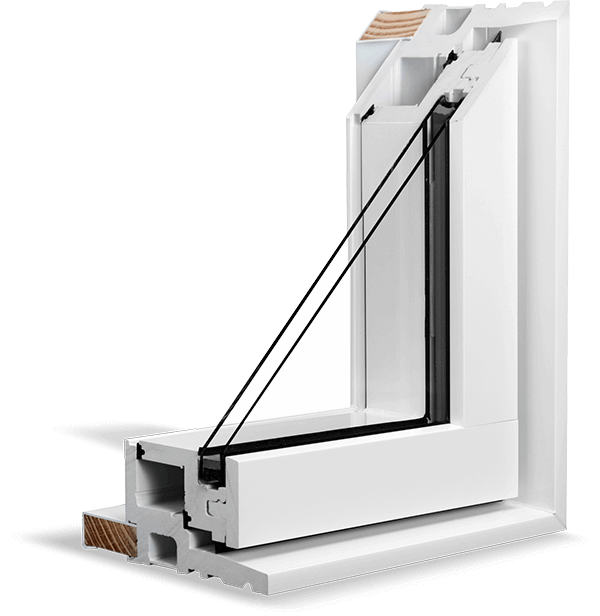 The RevoCell® Standard Colours
A wide variety of custom finishes are available. Please contact us to discuss options.
Add an Extra Touch with Grilles
Take advantage of our customization expertise to get a personalized window solution that gives your home a unique and distinctive look. The internal grilles allow for easy cleaning, while the external grilles simulate traditional divided lites. Any of our grille configurations can be combined with any grille type to get the exact look you desire.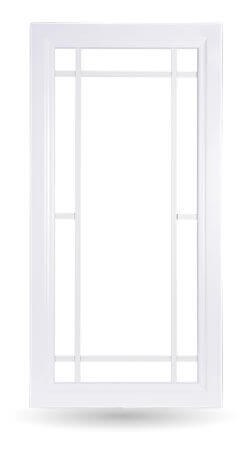 Contour
Contour Grilles add a beautiful Prairie-style look to your window, reminiscent of the style emerging in late 19th - early 20th century North American homes.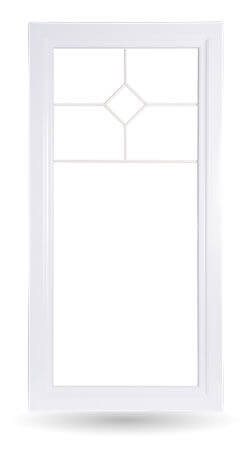 Diamond Pattern
Diamond Patterned Grilles are an ornate window grille style that reminisces the Old-World style of Tudor Revival style mansions of the past.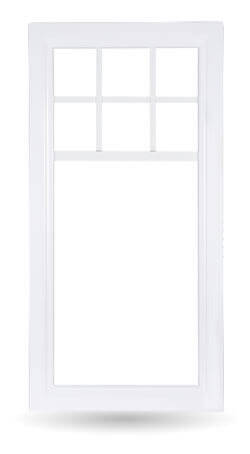 Partial Covering
Partial Grilles are a style coming back to modern homes, inspired by Craftsman style home aesthetic, where only a portion of the window is covered.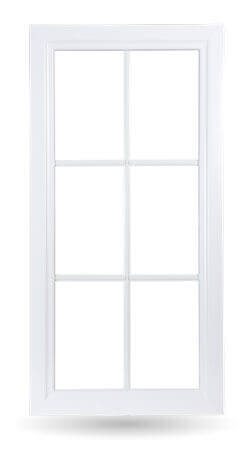 Rectangular
A timeless grille pattern commonly found in colonial homes, particularly Georgian style, as well as in those built in the 1970's and later.
Grille Types
A wide assortment of grille shapes and materials are offered to you to allow you to find the perfect match to your home.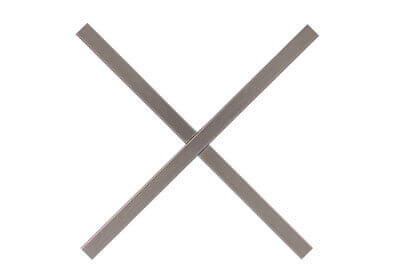 Slimline, 5/16"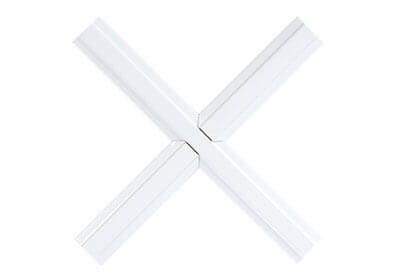 Georgian, 5/8"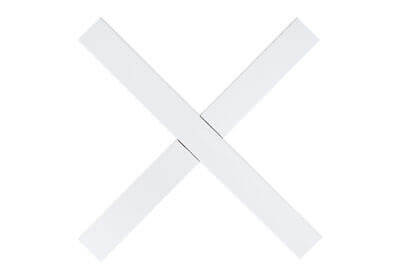 Rectangular, 5/8"
Treat the Window with a Glass Finish of your choice
Textured or coloured glass ensures privacy while allowing light to penetrate into bathrooms and other rooms requiring privacy. Coloured glass can also be used to complement the design of your home.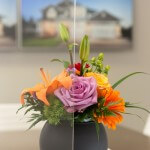 Clear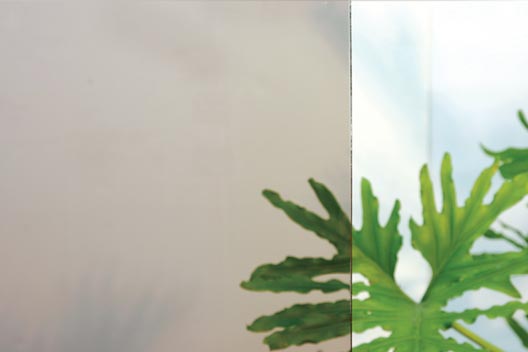 Bronze Tint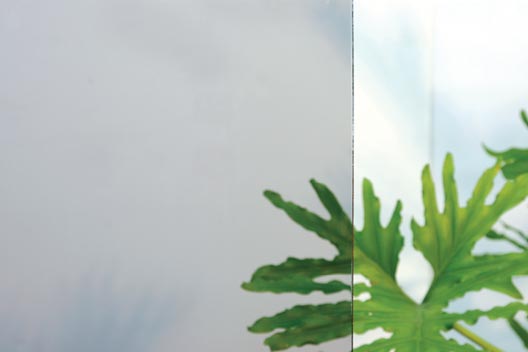 Grey Tint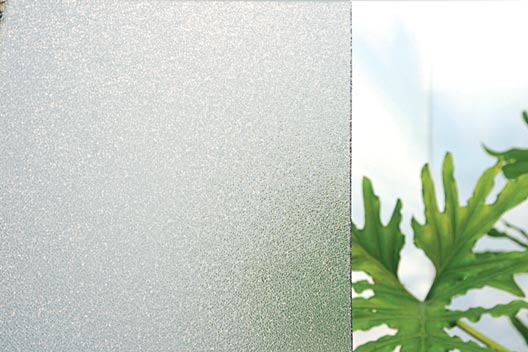 Frosted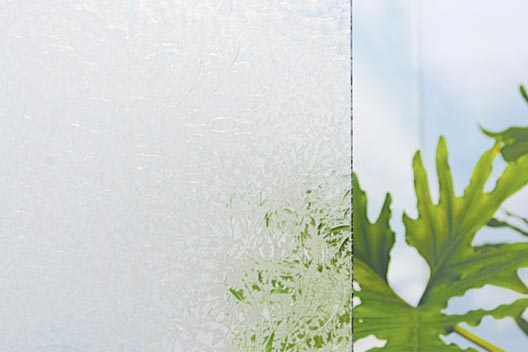 Glue Chip
Bay Window Interior Seat Options
Choose from different options for the interior seat of the window, for extra design and finishing flexibility.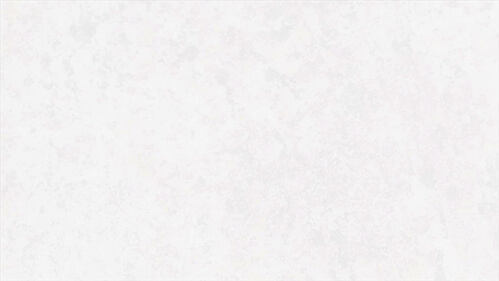 Formica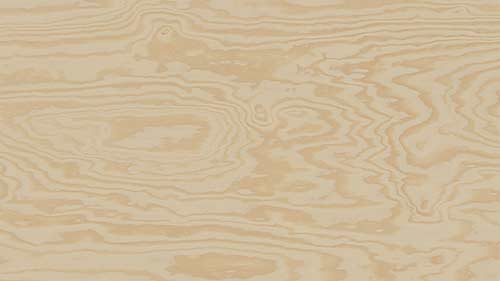 Plywood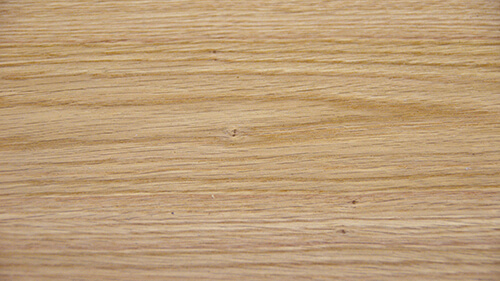 Oak
Energy Efficient Bay/Bow Windows
The manufacturing process of all Energy Star® certified bay / bow windows installed by Nordik Windows and Doors are audited by an independent accredited certification body and approved by Natural Resources Canada. Our windows and doors carry the Energy Star® label showing the specific climate zone for which they are rated. Our sales team would be happy to provide you with more information about the Energy Star® ratings of our windows and doors.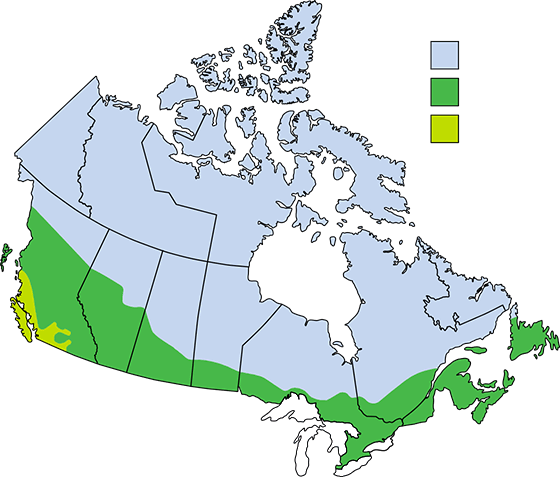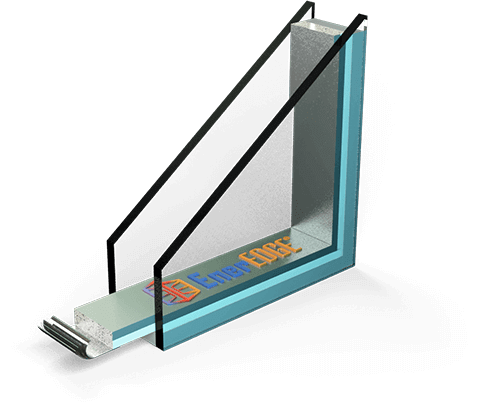 Nordik Windows and Doors bay & bow windows use Tremco® EnerEDGE® Technology, a pre-desiccated, ready-to-apply, cellular silicone warm-edge spacer that is suitable for a wide range of insulating glass constructions in fenestration applications. EnerEDGE® spacer is inset and applied to our glass lite's perimeter to enable fabrication of dual IG units in conjunction with a quality applied perimeter sealant.

All of our windows meet and exceed Canada's Energy Star High Efficiency and Most Efficient designations. Please refer to individual window types for their respective performace details.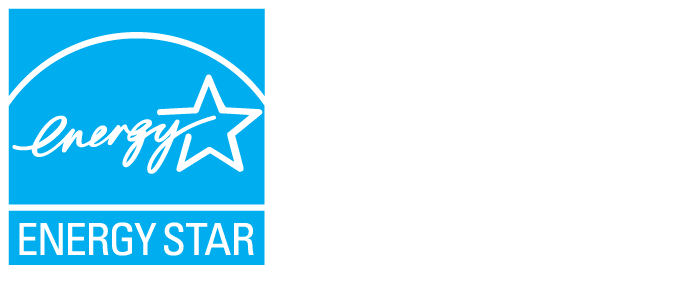 Future-proof your investment in replacement windows.
Schedule your FREE in-home or virtual quote and find out how you can get tomorrow's windows today. No waiting, no pressure.
Confidential. Secure. No Spam.